Are you looking for a healthier version of the Salmon sushi bake recipe?
I am happy to report that I successfully made a healthier and lower calories version of the salmon sushi bake recipe. And because I am a bit skeptical about whether it is delicious or am I making this up, I had to drag my husband to taste my new recipes as always. Thanks, hubby! 😆 It's a thumbs up btw. We devour everything in seconds. 🤣
Initially, the recipe keep on reappearing in my TikTok #fyp, and upon watching the video ingredient I am a bit disheartened because I can tell this recipe had higher calories. 😩
Now, don't get me wrong. I am not that calories-counting freak. I am just more aware of what I want to put inside my body. Ok, ok enough said. I am one of the health conscious people. And if you are reading this blog post, I am assuming we are tight. 🤣
RELATED POSTS
Disclosure:
Some of the links here are affiliate links, and I may earn if you click on them, AT NO EXTRA cost to you. I hope you find the information here useful! Thanks!
RECOMMENDED TOOLS TO MAKE SALMON SUSHI BAKE RECIPE
Baking Pan – I mean who has time to present their food beautifully when you are juggling between kids and cooking? That is why I love this oblong cover that doubles as a baking/roaster pan. From the oven-to-table-to-fridge-microwave dish, our food will look presentable!
Air Fryer – The ultimate tool that I think every household should have. It is so easy to use, saves time, and fussy free. I mean I can do other chores in my home while waiting for my food to be cooked.
Furikake – Secret ingredient. Seriously besides making this recipe, if you are having a bad day or lazy to cook and only have hot steaming rice, use this seasoning and you have comfort food. 🤤
The hero of this dish would be arguably world famous salmon fish. Salmon is undeniably delicious and versatile. You could cook this fish in any way you could think off and still come out delicious, what?
Salmon is high in protein and other beneficial nutrients such as omega-3. Our body can't produce omega-3 and we need to get them from our diet. Being rich in these healthy fatty acids can contribute to many health benefits, like lowering the risks of heart diseases and certain cancers.
Ingredients To Make Salmon Sushi Bake Recipe (Tips And Substitutes)
Rice – You can choose to use Japanese Rice but for this recipe, I am using Basmati Rice. Wash and rinse the rice until you get clear or less cloudy water. And follow the instruction on the packaging on how to cook your rice.
Salmon – Season the salmon with salt ginger powder and mixed herbs and then air-fried it to 190C for 20 minutes. Shred the salmon using a fork or chopsticks.
Greek yogurt – 1 cup of greek yogurt mixed with one lemon juice and black pepper.
Sriracha sauce – It gives a bright red appearance and spiciness to the dish. If you don't have this you can use chili sauce or hot sauce that you have in your pantry.
Furikake seasoning – This is a Japanese seasoning consisting of seaweed, sesame seed, sugar, and salt. It is often used as a Japanese condiment to flavor rice. If you cannot get furikake, you can buy other seaweed seasonings at the Korean Martor or roasted seaweed. Equally delicious!
Optional – Cucumber, edamame, and spring onion. Honestly, I just cannot eat without my veggies, unlike my husband 🙄 He is the true meat eater. I sprinkle the spring onion later on top and eat cucumber and edamame as a side.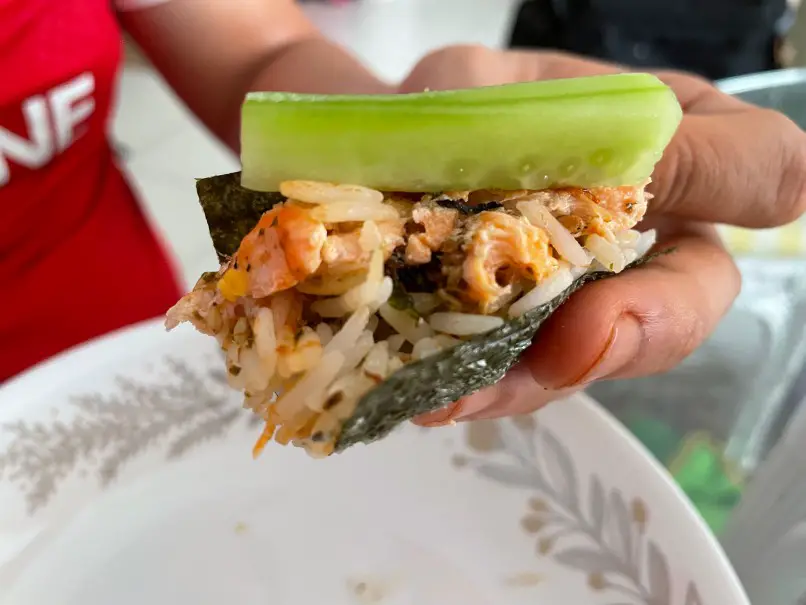 Because this recipe intends to be a healthier version, this salmon sushi bake will not use cream cheese, and not using imitation crab as I am not a fan of processed food. It is healthier and low in calories, only at 382kcal per person serving.
How To Cook Salmon Sushi Bake Recipe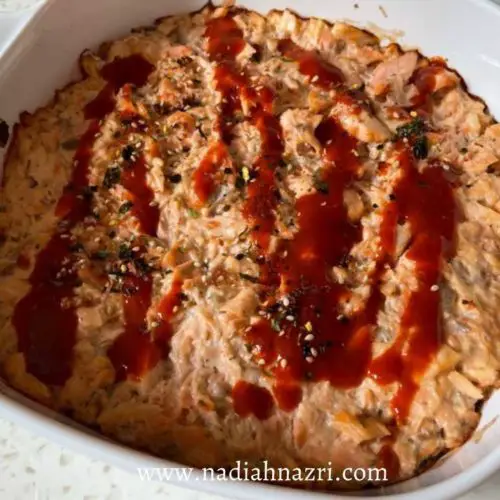 Salmon Sushi Bake Recipe
Ingredients  
1

cup

jasmine basmati rice

1

cup

water

200

gram

salmon

1

cup

Greek yogurt

1

squeeze lemon juice

1

tsp

black pepper

1

Tbsp

sriracha

1

Tbsp

Garlic salt powder

1

Tbsp

Mixed Herbs

1/4

cup

Furikake
Instructions 
Wash and clean rice until clear or less cloudy. Cooked on rice cooker.

Marinate the salmon with garlic salt powder and mix herb. Cooked using air fryer 190C for 20 minutes. Shredded cooked salmon using a fork or chopsticks.

Prepare sauce – Mix Greek yogurt, lemon juice, black pepper, and sriracha (You can leave out sriracha if you want less spicy). Lastly add in shredded salmon.

After rice is cooked, transfer and press rice flat on the baking pan.

Once flat, sprinkle furikake evenly to cover the top of the rice.

Then spread the salmon mixture over top, and spread it smooth.

Let it cool for a while. Put sriracha sauce on top, sprinkle furikake and chopped spring onion on top.
If you don't have an oven, you can use an air-fryer to cook this salmon sushi bake recipe. The only difference is to cook at 190C for 20 min.
FAQs
What To Serve With Sushi Bake?
Do You Eat Sushi Bake Hot Or Cold?
Both! Either one still tastes heavenly. I reassure you. Even after overnight and reheating with the microwave, the taste is still deliciously divine.
Whenever you are fancy that sushi dish and lazy to go out. This is the dish you can make in a jiffy. And it can be that potluck dish that your family or friends will rave about.
Let me know if you already tried to bake this dish. Leave me a comment and help me share this recipe. Looking forward to hearing from you soon. xoxo 😁