I love making tuna fried rice recipes as it is so easy to do and a healthier meal too!
I am a busy working mom, had to attend to my crazy fun kids. They are three, btw 😜.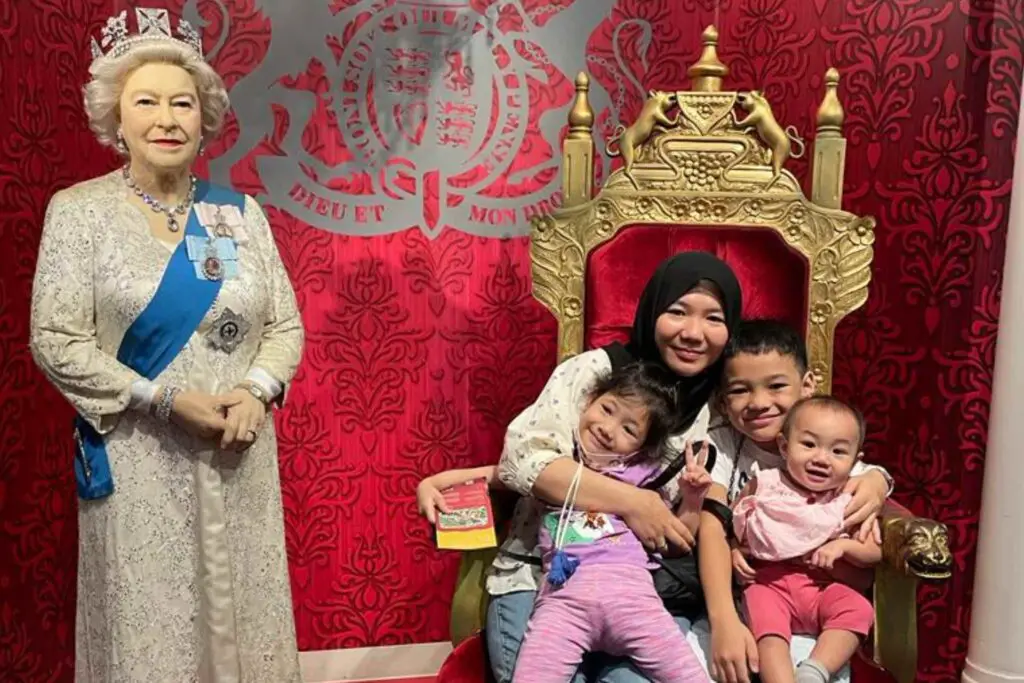 Juggling between working and household chores makes me appreciate making an easy and quick cook dish.
I am using canned tuna for this tuna fried rice recipe, particularly canned tuna packed in water as it has lower calories than others and is higher in protein and omega-3. Food that is high in protein can help to lose weight, feel full longer, and suppress appetite.
This fried tuna rice is so easy to make and won't take much of your time. You only need 15-20 minutes to cook this tuna fried rice recipe. Just follow your own pace.
Disclosure:
Some of the links here are affiliate links, and I may earn if you click on them, AT NO EXTRA cost to you. I hope you find the information here useful! Thanks!
RECOMMENDED TOOLS TO MAKE TUNA FRIED RICE
Cast Iron Skillet – Deemed as the essential kitchen tool by leading's chefs and many, it can be used for sauteing, searing, baking, broiling, frying, or grilling.
Nonstick Cookware Set – 15-piece nonstick cookware set that is easy for cooking and cleaning too.
Heat-Resistance Silicon Cooking Utensil – The 10-piece cooking utensils are made of food-grade silicone and stainless steel and will meet all your cooking requirements.
How To Make Tuna Fried Rice
If you prefer to watch a video on how to make fried rice tuna, you can watch it below.
To make canned tuna fried rice, you need our star hero. A canned tuna in water. This is one of many ingredients that I always stock up in my pantry.
If you are doing a tuna and rice diet, then you should give this canned tuna fried rice a try.
I am using overnight basmati rice in this tuna fried rice recipe. It is also okay to use freshly cooked rice. Just let it cool for a while before frying it.
This will help to dry the grains out enough to give this fried rice tuna a nice texture.
If you want to do a high protein recipe you could make tuna egg fried rice by simply adding eggs like what I am doing.
Besides having additional protein, my reason also so that this canned tuna fried rice has a nice color to it. This will help to increase your appetite.
I am going to share with you a trick that I learned from my brother. You can mix the egg with the rice before frying the tuna egg fried recipe.
So that the rice can absorb the yellow color beautifully.
What I like the most, is this tuna fried rice calories is only 296 kcal. Making this recipe is low in calories, highly nutritious, well-balanced, and suitable for those who are on a tuna and rice diet.
Tuna Fried Rice Recipe
Ingredients  
3

cloves

garlic

1/2

can

Tuna

5

birds eye chili (optional if you don't like it spicy)

1

tbsp

olive oil

1

cup

overnight basmati rice

1

egg

1

tsp

himalayan salt
Instructions 
In a large wok or skillet, heat 1 tablespoon of the oil over high heat until it is very hot. Turn medium heat, put minced garlic and bird eye chili if you like spicy.

Add in 1/2 cup canned tuna in water. Stir well.

Put in 1 cup of overnight basmati rice. Mix them all nicely and sprinkle salt on top.

Add in more protein with 1 egg, stir them all over medium heat for about 1-2 minutes.
Variations & Substitutions Tuna Fried Rice
Rice – You can use Jasmine rice, basmati rice, or brown rice to make this tuna fried rice recipe.
For a healthier choice, you can choose either brown rice or basmati rice due to their low glycemic index value.
Did you know if you keep your rice overnight, it can lower your glycemic index value? Don't have rice? Change your carbs to cauliflower or broccoli.
Check out how I use cauliflower as fried rice.
Canned Tuna – Hero of tuna fried rice 😋 You can choose either tuna in water, oil, or chili. For this fried rice with tuna, I recommend tuna in water because it is higher in protein, and fats, and lower in calories.
Vegetables – In this recipe, I used cherry tomatoes, Japanese cucumber, and lettuce.
I just like the crunchiness and the sweet juices coming from the tomatoes enhancing the taste.
What I like the most about this tuna fried rice recipe literally you can add so many options such as capsicum, asparagus, and broccoli.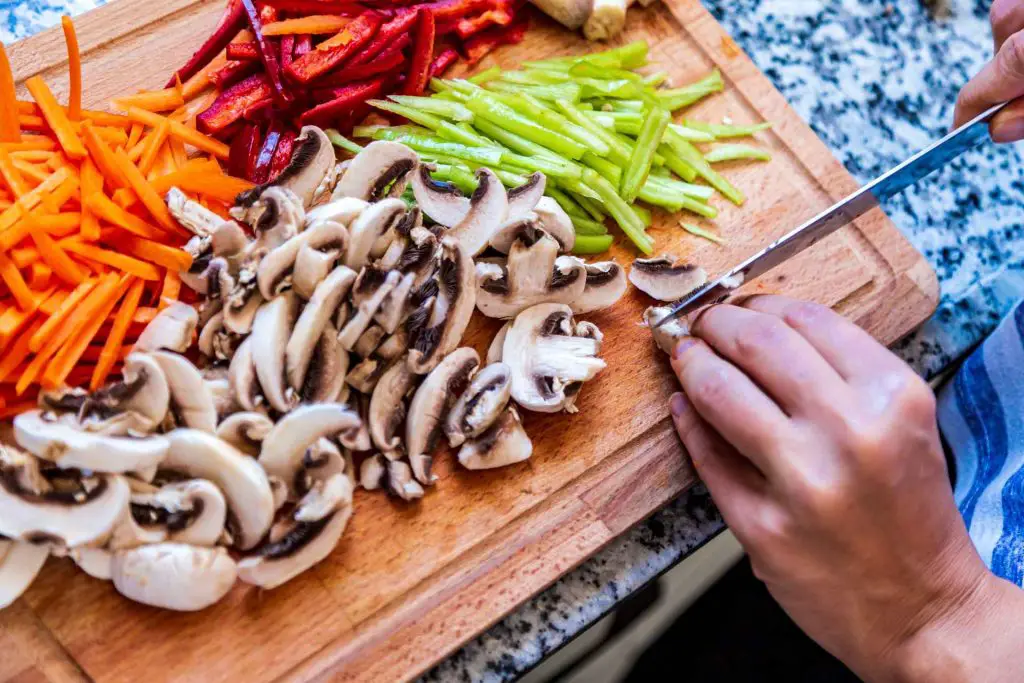 Play with your imagination and preferences of taste.
Spicy – If you like it spicy, add bird's eye chili, sriracha, and dried chili, or use tuna with chili oil. It's optional, btw.
Different protein – Want to change protein or add on? Using breast chicken, sausages, or eggs might satiety you more.
Fried rice can go well with a lot of other proteins from seafood-poultry-meat. It is a fool-proof recipe, I might say.
Butter, Sesame Oil – Yes, butter always makes everything taste better, and it goes well with frying rice.
No wonder it is a Julia Child favorite! Just be cautious, as it can easily add an unwanted muffin top. 😅
Spring Onion – Bring in extra fragrance and texture.
Herbs – Serve with mint, cilantro, parsley, or basil. Just make sure to serve them fresh. I prefer mint.
Kimchi – Adding kimchi to this dish can enhance the taste and brings out a unique flavor yet deliciously divine.
Sometimes, I add kimchi to this recipe. Love it! Plus kimchi has beneficial properties that may help in losing weight.
You can try my tuna kimchi fried rice recipe.
Fish Sauce – If you like a more savory, umami taste you can add on the fish sauce for this fried rice tuna.
Soy Sauce – Asian-style flavor that you must keep in your pantry, it can help to flavor all your favorite fried rice recipes.
Keep them in your refrigerator. Apart from the regular soy sauce, there is the sweetened soy sauce that can help to give extra depth of flavor.
Have Extra Tuna Fried Rice? Here is How To Store Your Leftovers.
Planning ahead and meal prep for tuna egg fried rice recipe by keeping them in airtight containers in the refrigerator for three days.
You can thaw then reheat them with the microwave or re-cook them on a wok or skillet. You can put ice during reheating to keep moisture in the rice.
If you want to keep them for as far as 2 months, keep them in your freezer.
FAQs on Tuna Fried Rice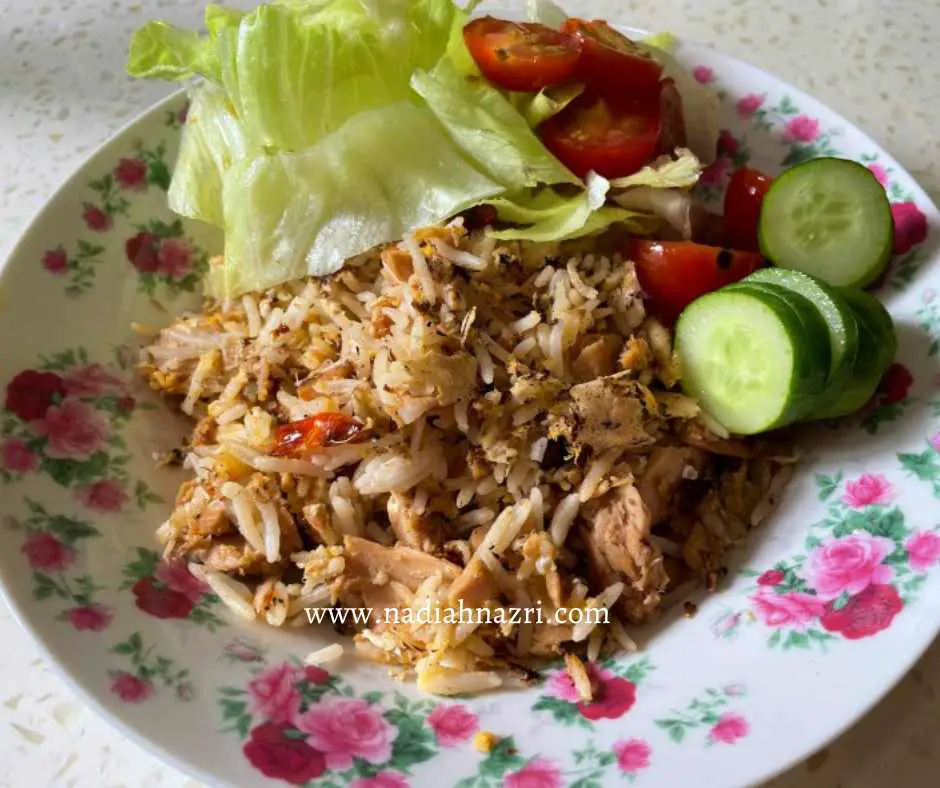 What Goes Well With Canned Tuna?
Here are the lists that can go well with canned tuna. (I test and taste them personally)
Should You Rinse Tuna From A Can?
No need to rinse tuna from a can. You can eat canned tuna straight from the container. But rinsing it will wash away extra sodium, making it less salty. Should you feel compelled to wash your tuna, just let it out from the can, put it on a strainer, and gently run it through the water. Left the strainer on the sink to remove excess water or you can squeeze out excess water with a kitchen towel.
Which Is Healthier Tuna In Water Or Oil?
Tuna in water is healthier. Both are good sources of protein and healthy fat however tuna in oil is higher in calories and fats. Hence, I would recommend using tuna in water for this recipe.
I always enjoyed making tuna fried rice recipe as it is so easy to make, fast, and keep my family and me with happy tummy. It is convenient to buy and store canned tuna as the shelf life can be up to 3 years.
Every pantry should keep canned tuna just in case you need it.
You also can cook this dish for a potluck, school party, or for your children's lunch box. It is a well-balanced meal and delicious too. I bet your family and friends will thank you.
Let me know if you will give this tuna fried rice recipe a try and do you like it. I am looking forward to your feedback and comment.
Appreciate it if you could help me to share this recipe with your family and friends. Until the next recipe, Bon Appetit.