One of my favorite meals is vegan japchae. I still remember the first time I had vegan japchae, it was at my Korean friend's birthday celebration.
The sweet and savory umami taste tantalized my taste bud to another level. I could not forget the flavor from the first time I tasted it.
I had to learn to make a japchae vegan recipe from my friend.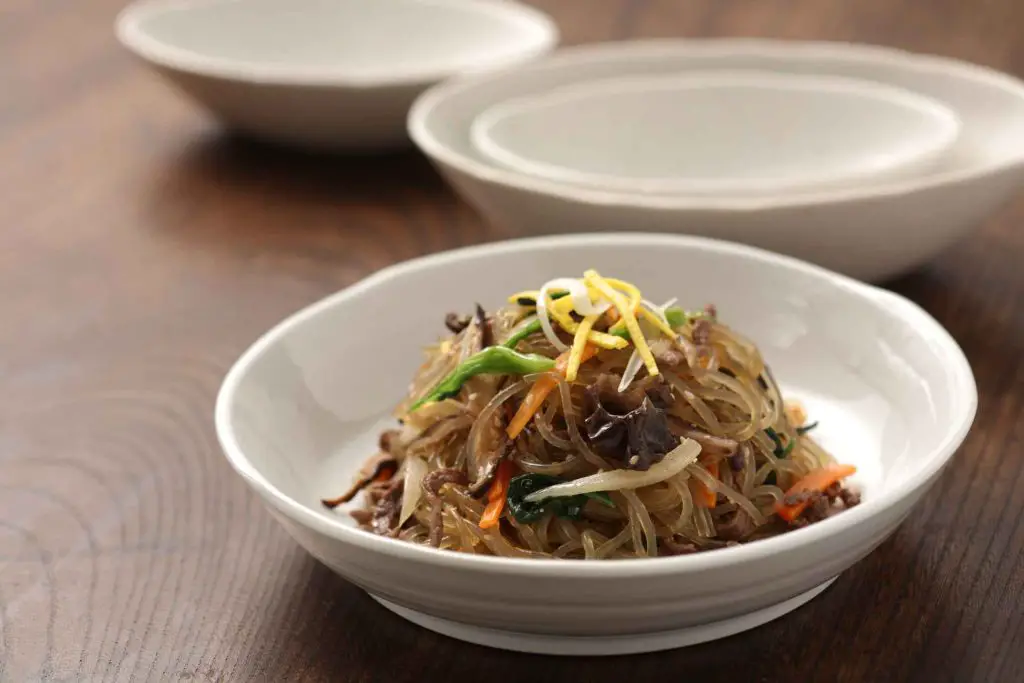 I thought learning and making Korean dishes would be difficult and intimidating but I was proved wrong.
Thanks to my Korean friend, I am going to share a delicious, healthy, authentic, and easy-to-cook vegan japchae.
Related Posts
Intermittent Fasting For Women Over 40
Disclosure:
Some of the links here are affiliate links, and I may earn if you click on them, AT NO EXTRA cost to you. I hope you find the information here useful! Thanks!
What is Vegan Japchae?
King Gwanghaegun, the 15th king of the Joseon dynasty decreed japchae as a royal dish in the early 17th century.
The earliest version did not contain noodles at all, only stir-fried mixed vegetables. The japchae we know today with noodles and meat came about 200 years after it was created, mind-blowing isn't it?
Recipe Japchae Korean noodles are one of the most popular dishes that Korean makes for special occasion like birthday celebration, and anniversary.
The Korean vegan japchae uses glass noodles made from sweet potatoes. It has unique bouncy textures and when eaten together with crunchy textures from all the vegetables, the taste is harmoniously blended making you want for more.
Typically, the protein of choice being used in the non-vegan japchae recipe is meat but you can change to tofu, edamame, or kale as your protein.
Ingredients Used, Substitutions, and Variations
Sweet Potato Noodles: Using other types of noodles is possible! However, the textures and tastes might slightly be different. Using sweet potato noodles or dangmyeon is better for those who are looking for gluten-free.
Use pre-cut noodles if possible. It is much easier to cook and handle, although you might need to do a few cuts after cooking.
Plant Protein: I use shiitake mushrooms and vegan eggs as a protein substitute. But you can choose other vegan proteins like tofu, temple, and edamame, the choice is yours.
What I like the most about this vegetarian japchae recipe you can "literally" dump any leftover vegetables that you have and they still taste nice.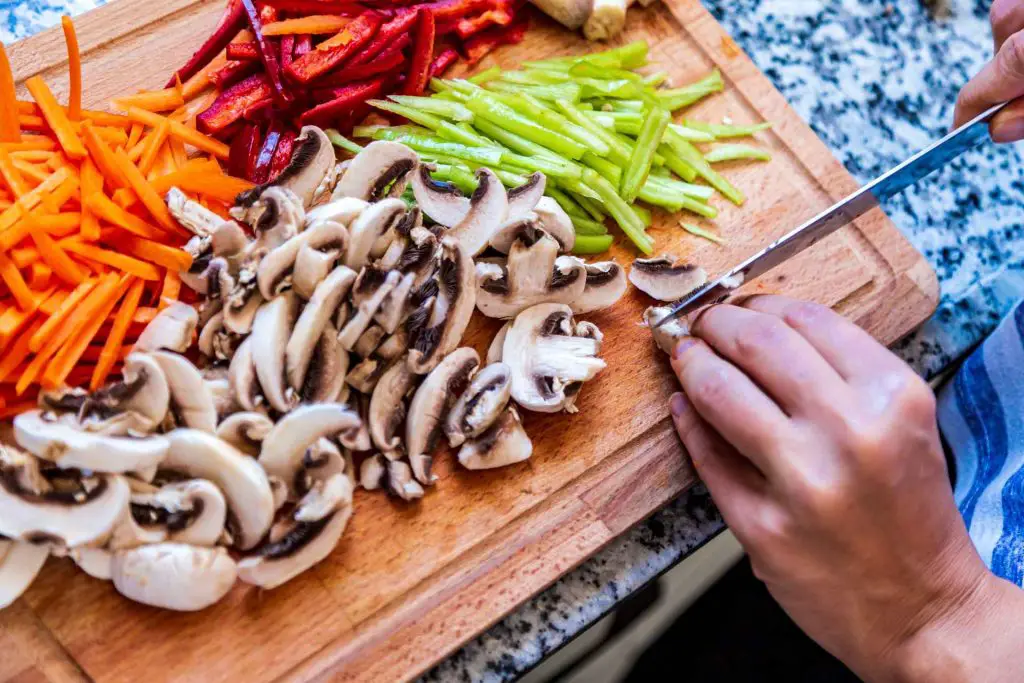 Vegetables: For this recipe, I am using garlic, onion, carrot, and spinach. Others vegetables can work well with this recipe like bell pepper, zucchini, Japanese cucumber, baby spinach, broccoli, cabbage, and park-Choy. Any stir-fried vegetables will do.
Just remember do not overcook your vegetables. I prefer them to be slightly crunchy but if you like your vegetables to be soft, by all means, you do you.
Sauce: Japchae has a sweet savory umami taste. There are lots of variations on how to make the sauce for japchae but I am using soy sauce mixed with maple syrup for this recipe.
Garnishing: Sprinkle sesame seed and scallion generously.
How To Cook Vegan Japchae
In a traditional setting, Korean will stir-fry the vegetables of choosing one by one before cooking them all together.
I prefer to just cook them all at once but in order. For example, vegetables that need to cook long due to thickness like carrots. Those leafy vegetables, I will stir-fry them last.
If you are a beginner and does not sure which vegetables go into stir-frying first, I will recommend you try cooking them one by one and time them so that you will know what Japchae is supposed to taste like.
The perfect japchae, have bouncy noodles, and crunchy vegetables with a balanced flavor of salty, sweet, and nutty.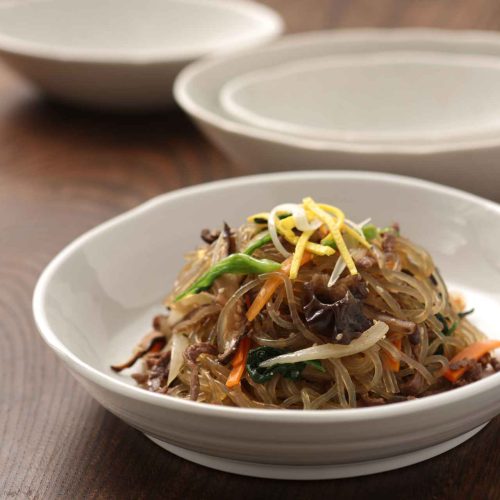 Vegan Japchae
Ingredients  
3 1/2

ounches

sweet potato noodles

1/2

carrot

1/4

cup

shiitake mushrooms

2

cup

spinach

1

tbsp

olive oil

3

garlic gloves

1

medium onion (150 gram)

1 1/2

tbsp

soy sauce

1

tbsp

maple syrup

1 1/2

tsps

sesame seeds

3

scallion stalks
Instructions 
Cook Noodles
Cook the Korean glass noodles accordingly to the package's instructions. Then drain and run under cold water to stop the cooking process.

Transfer to a clean and dry bowl. You might need to cut the noodles using scissors a few time.

Optional: You can drizzle a bit of sesame oil into the noodles to keep them separated and not sticking to each other.
Prepared vegetables
Wash all the vegetables of your choice and pat dry. Slice the carrots, peeled onion, and garlic thinly.

Soak the shiitake mushroom for a few minutes before cutting them thinly.

In a pot of boiling water, cook the spinach until it turns about bright green, around 2 minutes. Drain the spinach and run it under cold water. Don't forget to squeeze out the liquid as much as possible. Set it aside.
Prepared Sauce
Mixed the soy sauce with maple syrup. Stir them until mixed well.

Pour the prepared sauce into the noodles and mixed them well. Let them sit for a while.
Stir-fry Veggies
In a large skillet, heat the olive oil over medium-high heat. Add the carrots and saute until they start to turn soft, about 2 minutes. Meanwhile, you can add onion and garlic halfway while sauteing carrots.

Then put in spinach. Season with a dash of salt and black pepper before putting in the noodles.
Garnishing
Drizzle generously sesame seeds, scallions, and vegan egg
FAQs on Vegan Japchae
Is Japchae Vegetarian Or Non-Vegetarian?
BOTH! Japchae can be vegetarian and non-vegetarian by simply changing the protein. Typically meat is the main protein, but you can substitute it with tofu for a vegan or vegetarian version.
Are Korean Glass Noodles Vegan?
Yes. Korean glass noodles are vegan. You can enjoy meatless, gluten-free, and flavorful japchae in 30 minutes using this recipe.
Is Korean Japchae Healthy?
Yes. Korean Japchae is healthy. Japchae is rich in vegetables, which contain a lot of fiber. A fiber-rich diet can help to curb your hunger and craving and eventually may help to lose weight.
Are Glass Noodles Healthier Than Rice?
Yes, glass noodles are healthier than rice due to their low glycemic index and calories. It is also low in calorie density making it the best choice to lose weight.
How to store japchae and can I freeze it?
You can store vegan japchae for 4-5 days in a tightly sealed container. It can be kept in the freezer for about 3 months.
To reheat, let japchae thaw completely in the fridge overnight, or on a countertop for a few hours. Alternatively, you can use a microwave and use the defrost setting to speed up the process.
Heat it on the pan with some sesame oil over medium heat for a couple of minutes. Add a splash of water if you see the noodles a bit dry.
Sprinkle on some water and heat the noodles in the microwave for 30-60 seconds, until thoroughly warm.
Recommended Products For Vegan Japchae
I would recommend these products to help you cook the japchae vegan recipe:
I hope you will try this japchae vegan recipe and do let me know how was it. If you like this recipe, do help me to share it with your family and friends.
I am looking forward to hearing from you soon.