This edamame mango salad is a dish that you should try. It has a joyful zing, sweet, sour, and crunchy texture that sure will bring your taste bud to another level.
It is easy to make, effortless, low-calorie, and packed with nutrient-dense that benefits our body physically and mentally.
Hahahaha. OMG, I sound like I am selling something. 😆
The truth is, I have no time, am in a rush, have only limited ingredients in my pantry, and most of all hungry. Looking inside my refrigerator, I was only left with mangoes and edamame. And lots of nuts in my pantry.
Hence, I am making edamame mango salad that I am happy to share and hope you will try to make it.
Related Posts
Intermittent Fasting For Women Over 40
Disclosure:
Some of the links here are affiliate links, and I may earn if you click on them, AT NO EXTRA cost to you. I hope you find the information here useful! Thanks!
Recommended Products For Edamame Mango Salad
Here are products that I feel can help you make a tasty mango edamame salad especially if you don't have time to do your own edamame salad dressing 😉:
Sriracha Mayo Dressing – If you like sour, creamy, and a bit of spicy taste then this is the dressing that I would recommend.
Rating: 82% of 895 customers rated 4.7 out of 5 stars
"This stuff rocks! It's nice and creamy mayo with JUST enough kick to make it fun kind of spicy. My whole family loves it. It's just right."
Arthur Schwartz (Check more reviews here)
Lemon Herb Vinaigrette – If you love a clean delicious citrus flavor then I recommend you to try this salad dressing. The dressing is made using extra virgin olive oil and no high fructose corn syrup was used!
Rating: 77% of 6431 customers rated 4.6 out of 5 stars
"I really love this vinaigrette although I don't use it as dressing. It is very potent so I use it almost like hot sauce and in marinades. It has a wonderful flavor and plenty of heat. It has become increasingly difficult to find in stores so I was very excited to find it online"
Tally (Check more reviews here)
Balsamic Vinegar – It has a sweet and tangy taste to it. Perfect for salad dressings, meat dishes, seafood, and sauce. You must keep one inside your pantry. Trust me.
Rating: 81% of 2465 customers rated 4.7 out of 5 stars
"I've never seen this in store, so I was surprised when I came across it. It's delicious! Slightly milder than red wine vinegar, but has a unique flavor that I now use all the time in dressings. Highly recommend!"
LD (Check more reviews here)
Stackable Lunch Container – An airtight container suitable for meal prep or bringing out for lunch. 😍
Rating: 82% of 47360 customers rated 4.7 out of 5 stars
"I have been using my Bentgo salad since September and have noticed an overall improvement in my eating habits. The salad portion is the perfect size for me. Bentgo's customer service is super prompt and responsive to my questions. I highly recommend all Bentgo products."
Loula (Check more reviews here)
Ingredients For Edamame Mango Salad
Edamame – Edamame is high in protein, and water contains. It has significantly higher vitamin K and folate compared to mature soybeans.
Chickpeas – Also known as garbanzo beans. It has a rich source of vitamins, minerals, and fibers. This legume has moderate calories, mostly coming from carbohydrates and later protein and fats.
Kidney beans – These low calories beans have higher components of complex carbohydrates making them good for those who have insulin problems.
Other variation: You can choose to add or exchange ingredients such as corn, pinto bean, black bean, or white bean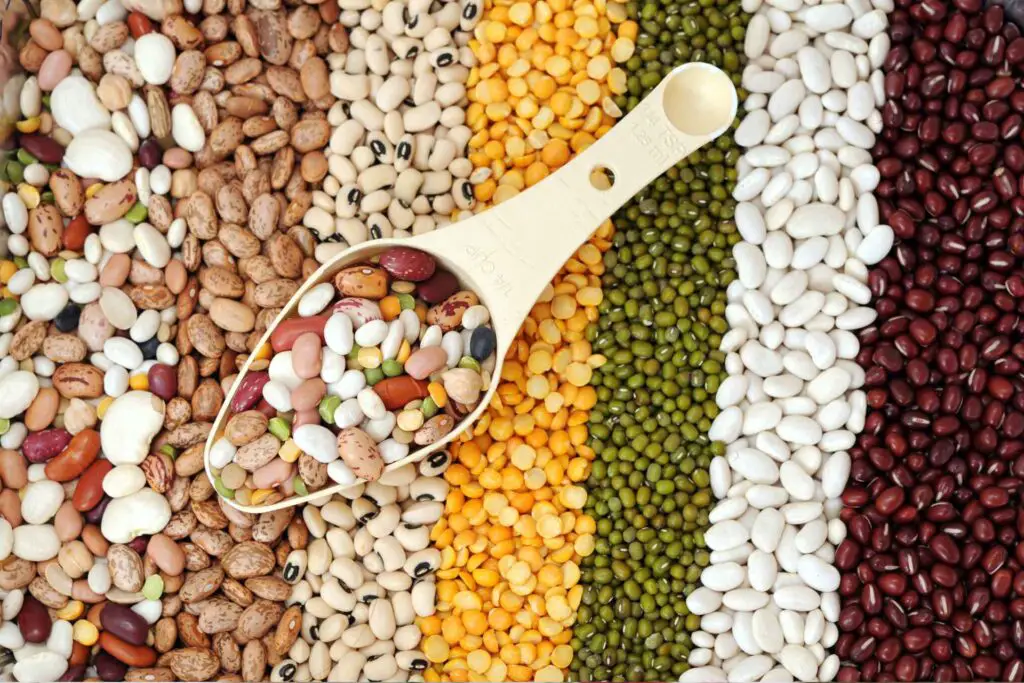 Mango – It is high in vitamin C aids the immune system, helps the body absorb iron, and promotes cell growth and repair.
The trick is in making an edamame salad recipe with mango, make sure it's not overripe, slightly underripe is okay. Any kind of mango works too.
Cucumber – High water content and soluble fiber. It helps in aiding weight loss and hydration.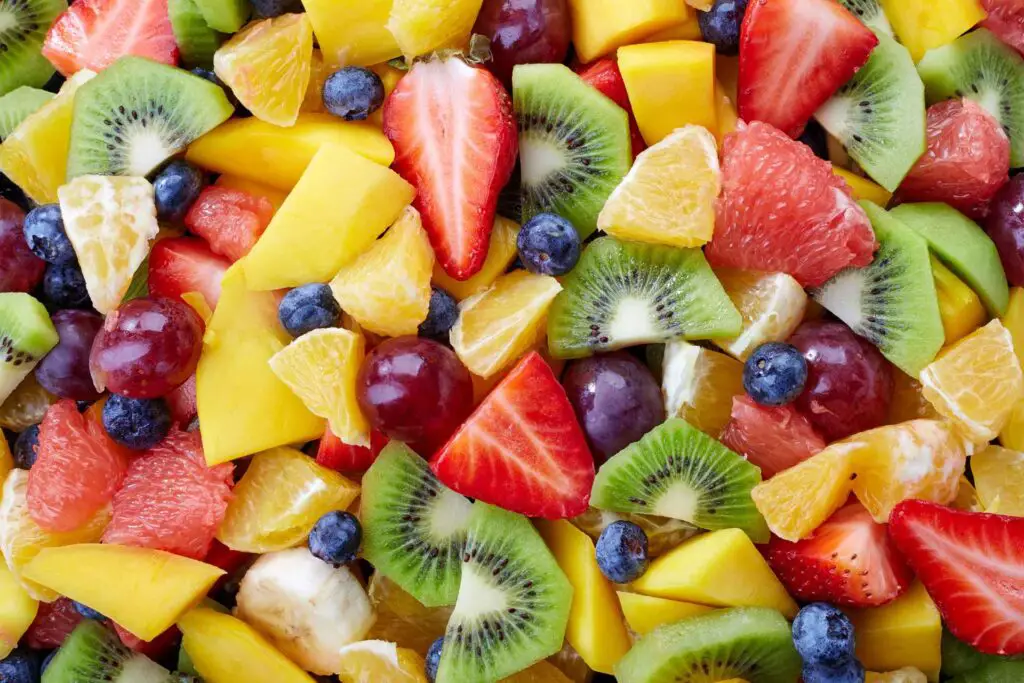 Other variations – You can add or exchange mango for strawberries, blueberries, green apples, kiwi, grapes, avocados, or watermelon.
Dressing For Mango Edamame Salad
If you have the time to do your own edamame salad dressing, you can make your own. I will share a few dressing recipes which I already tried.
However, if times are against you I have listed my recommendation for ready-to-buy dressing on top of this article.
Edamame Salad Dressing Idea
Apple cider vinegar with maple syrup.
Lime juice, maple syrup with cilantro, or fresh mint.
Lime juice and zest, maple syrup, sesame oil, and salt.
Lime juice, maple syrup, and olive oil.
Greek yogurt, lime juice, salt, and pepper.
How To Make Edamame Mango Salad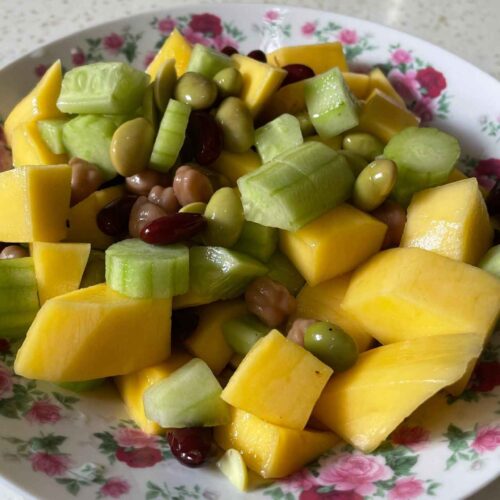 Edamame Mango Salad
Ingredients  
1

cup

edamame boiled for 3 min and drained,

1

medium

japanese cucumber diced

1

medium

mango, peeled and diced

1

medium

red onion, diced

1

can

kidney beans, drained, and well-rinsed.

1

cup

chickpeas, boiled and drained

1

can

corn, drained and well-rinsed

11/2

tbsp

balsamic vinegar
Instructions 
Cook edamame and chicpeas according to packaging instructions. Rinse under cold water until cooled.

Add all chopped ingredients to a large bowl.

Add 1 and half tbsp balsamic vinegar

Optional, can add on diced avocado and served immediately
Edamame Mango Salad Recipe Tips
I would recommend for you serve it immediately because over time mango can get soggy and mushy but if you wait 10 minutes, the taste will get better.
You can store it for up to 4 days in the refrigerator but I would recommend that you keep each ingredient separately. And cut mangos fresh when you want to eat them.
This bean edamame salad can make a great light lunch or dinner.
Lemon works in place of lime juice.
If you like your salad to be a bit spicy, you can add on a spicy sauce like sriracha.
You can try to sprinkle some toasted sesame seeds on top when you want to serve. It helps to enhance the flavors.
It is also nice to eat with bread or a sandwich.
FAQs On Edamame Mango Salad
How To Storage Edamame Mango Salad?
You can store edamame mango salad inside an air-sealed container for up to 4 days. But I highly recommend not mixing the ingredients together until when you want them to be served.
Can You Add Meat To This Recipe?
Yes, you can add meat to this recipe. The best pairing would be tuna, or salmon diced.
Nowadays, it is common to not get enough vegetables and fruits as per recommendation by WHO.
Hence, I think this recipe will help you to get the nutrients needed for your body to work efficiently. Researchers recommend a '5-a-day-mix' diet of fruits and vegetables to lower the risk of severe health problems, such as heart disease, stroke, and some types of cancer.
I do hope you could give this recipe a try. And let me know if you enjoyed it in the comment below. I do appreciate it if you could share this recipe with your family and friends.