Jump to Recipe
Making a high-protein edamame pasta recipe is so easy. This is one of my favorite dishes to make whenever I am in a rush.
If you are doing the keto diet, this recipe may help you as this edamame pasta recipe is high in protein.
Making this recipe is a smarter and healthier choice for moms like me and perhaps you to lose weight and change our lifestyles to a healthier way.
Eating carbs such as spaghetti or rice often brings out guilt after eating, especially when you are on a diet.
I am hoping with this edamame spaghetti recipe will build a new relationship with our food and may help to make you less guilty when enjoying your pasta.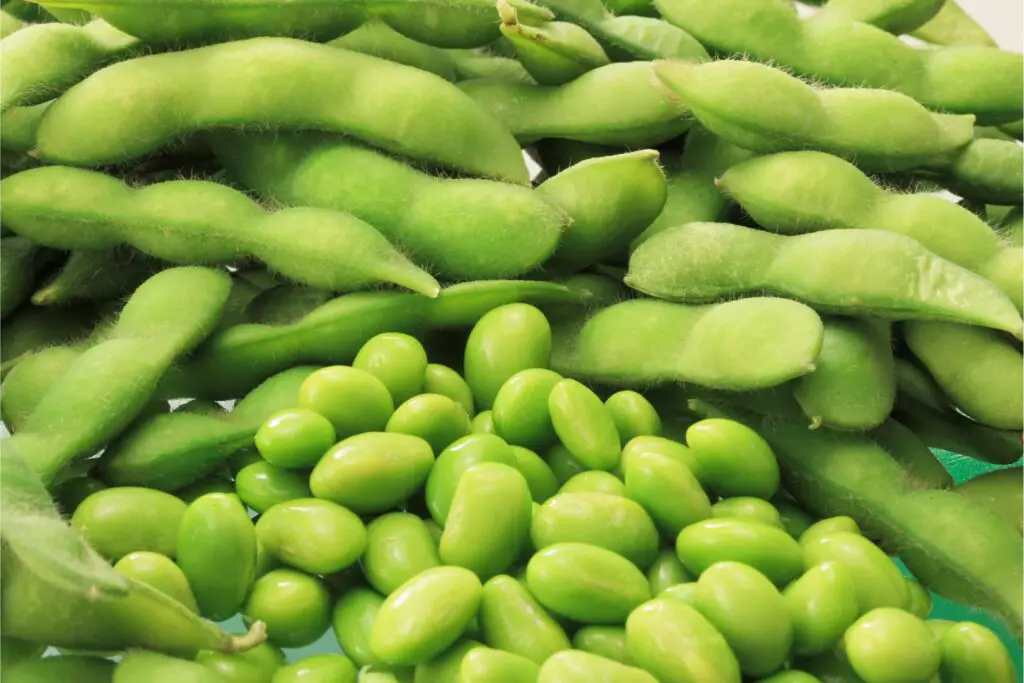 Disclosure:
Some of the links here are affiliate links, and I may earn if you click on them, AT NO EXTRA cost to you. I hope you find the information here useful! Thanks!
Recommended Products
Edamame Spaghetti – This is an alternative and good to have if you don't have edamame at home or you just want to try it out.
Stackable Bentgo Bento Lunch Box
Why You'll Love Edamame Pasta Recipe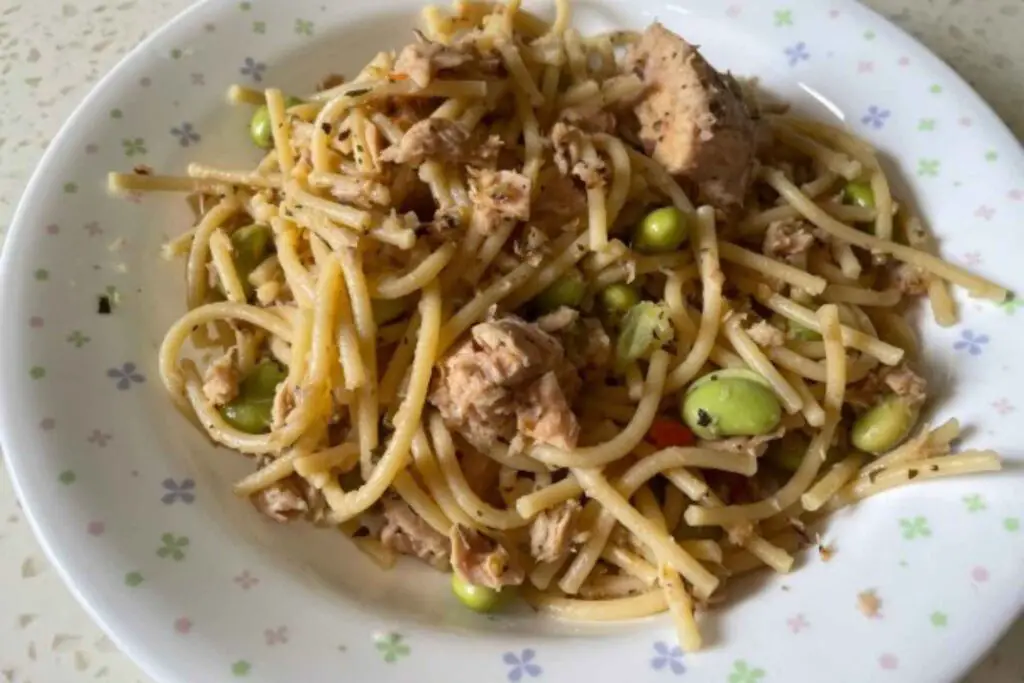 Quick and Easy To Make: You don't have to waste time as preparing the ingredients to make an edamame spaghetti recipe takes less than 10 minutes.
Healthy: This is a healthy edamame pasta recipe due to edamame is high in protein. About 37% of your DV requirement.
Protein may help you to lose weight as protein is more fulfilling, helps to increase body metabolism, and burn more fats.
Vegetarians have problems getting not enough protein. With edamame alone, you can create delicious edamame pasta vegetarian and protein.
Versatile: This pasta edamame is so versatile. If you are not vegan, like me. You can add on more protein like what I did in this pasta edamame recipe.
I am using canned tuna in water as added protein. Another alternative that you can add on such as diced chicken breast, minced meat, or salmon.
Edamame Pasta Ingredients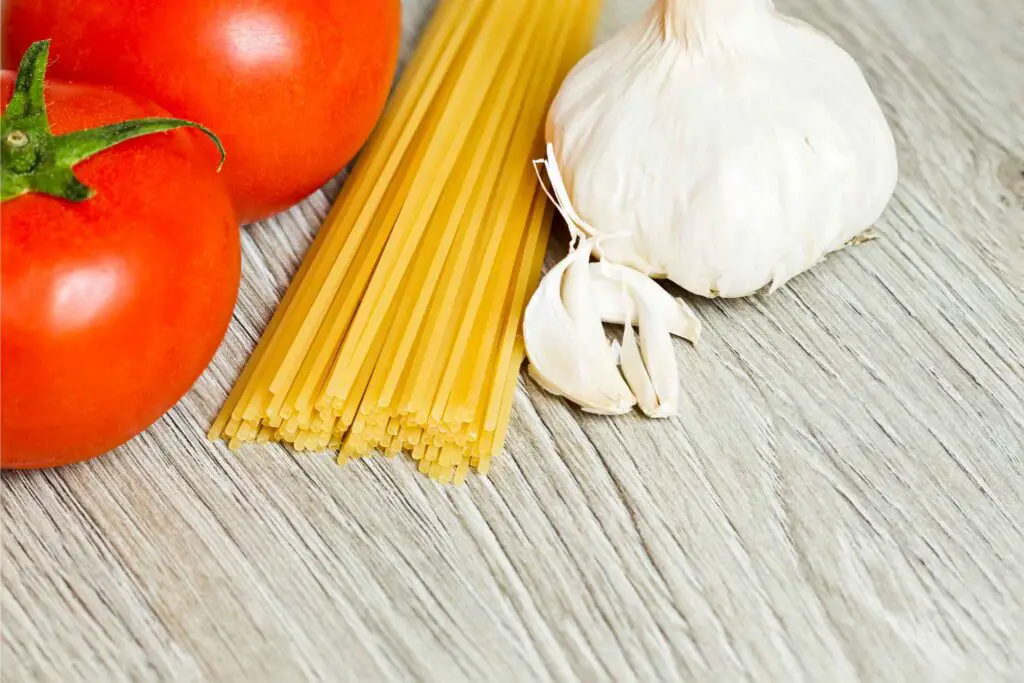 To make an edamame pasta recipe you will need:
Edamame – This is the hero or the star of this edamame spaghetti recipe. My choice for making this recipe is using shelled edamame.
I am using frozen edamame and cooked it based on the packaging instructions. You can choose to boil or steam edamame.
For me, both methods taste the same there are no significant differences in terms of taste or texture.
Edamame is a good source of soy protein, rich in healthy fiber, antioxidants, and vitamin K.
You can try my edamame mango salad recipe or salmon sushi bake without cream cheese that goes well with edamame.
Spaghetti – I am using whole wheat spaghetti. You can choose to use whatever is available to you.
Did you know that there is pasta edamame available for you to cook if you don't have "edamame"? Just this pasta is a bit fragile, so you need to be extra careful when cooking it.
The taste otherwise is nice with a strong edamame flavor. This pasta edamame is good for those who are looking for gluten-free and vegetarian.
Garlic – Garlic is good to help boost your body's immune system. And garlic helps to enhance the aroma and taste of this healthy edamame pasta recipe.
Seasoning – I am using salt and mixed herbs
Variation/Optional – You can choose to add more protein like what I did in this recipe using canned tuna. Or you can choose breast chicken, minced meat, and salmon.
You can also garnish your healthy edamame pasta recipe with broccoli, tomatoes, mushrooms, and spinach, or if you like a bit of spicy you can put bird's eye chili.
Edamame Pasta Cooking Instructions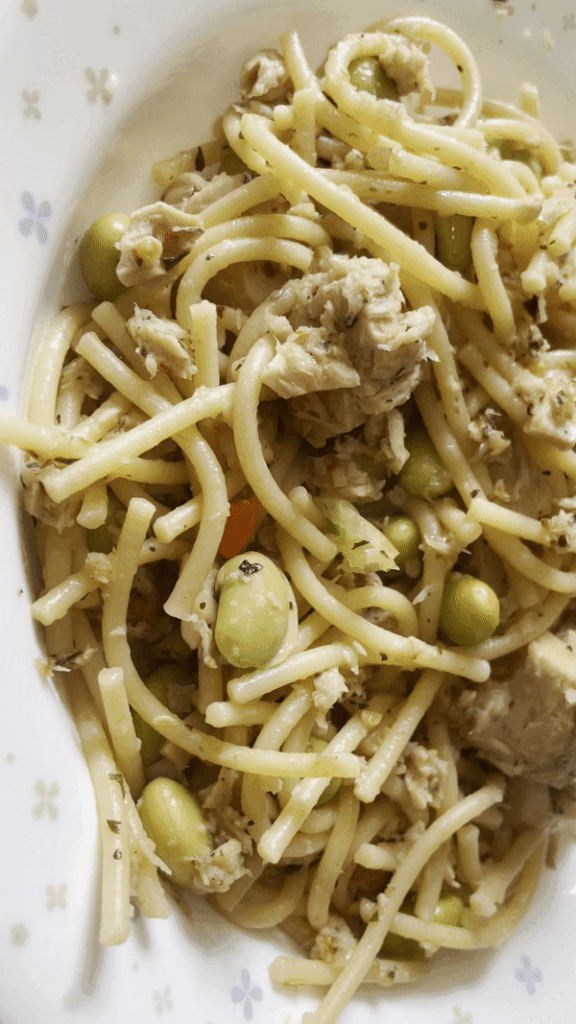 Edamame Pasta Recipe
Ingredients  
1/2

package

Spaghetti

2

tbsp

Olive Oil

4

Garlic Cloves slice thinly

1

cup

Shelled Edamame

1

tbsp

Himalayan Salt

2

tbsp

Mixed Herb

1

Canned Tuna In Water

5

Chopped Bird's Eye Chili
Instructions 
Cooked spaghetti accordingly to packaging

Cooked edamame accordingly to packaging. Once cooked, put aside and let cool.

Heat pan with medium heat

Put in olive oil, garlic, and bird's eye chili. Stir until garlic changes to a nice golden-yellow color.

Put in tuna. Stir for a while. Add on mixed herbs and salt.

Last, put in spaghetti and serve.
FAQs On Edamame Pasta Recipe
Is Edamame Pasta Healthy?
Yes, edamame pasta is a healthier choice for pasta lovers sticking to a healthy diet. They're gluten-free, low-fat, vegan, keto-friendly, and packed with nutrients. Edamame noodles are made from edamame which is harvested from immature soybeans.
Is Edamame Pasta A Carb?
Edamame spaghetti has 20 grams of carbohydrates. Each serving of pasta edamame contains 180 calories and is made entirely out of edamame bean flour. Making edamame pasta gluten-free and a vegan product.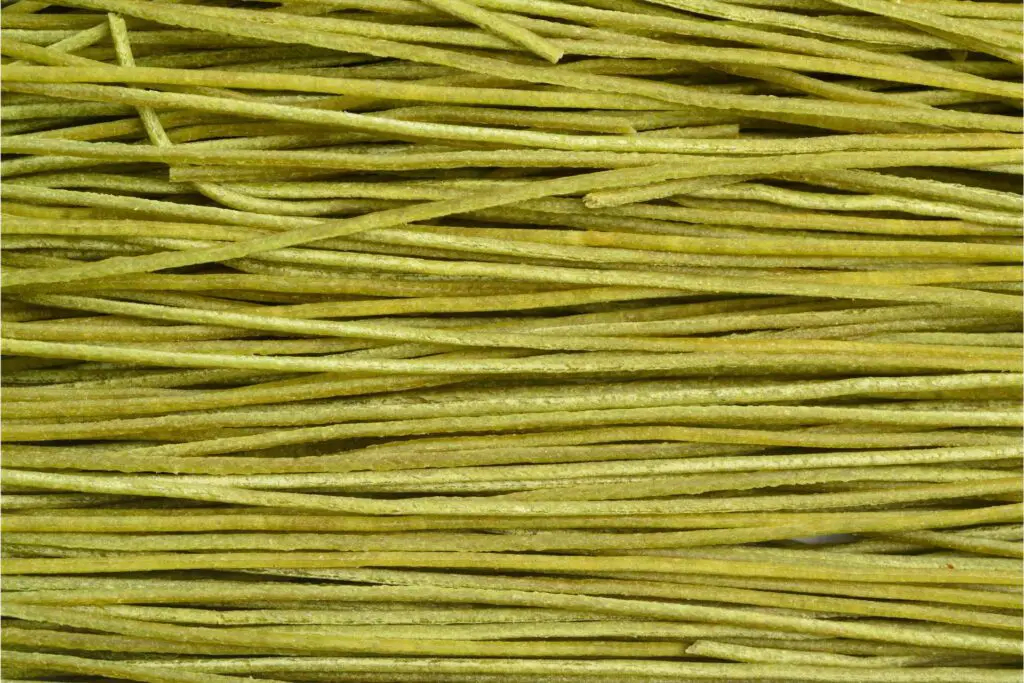 Does Edamame Pasta Taste Like Pasta?
Pasta Edamame had a nutty flavor and more texture that allows the sauce to cling and assimilate to the pasta, helping to enhance the pasta taste.
Is Edamame Ok For Weight Loss?
Edamame is a great food that may help you to lose weight. One cup of edamame has 180 calories and 8 grams of fiber, 17 grams of protein. This will help you feel fuller and more satisfied for hours.
What Is The Best Way To Eat Edamame?
The best way to eat edamame is just to squeeze the beans out of the pods and put them into your mouth. The shells cannot be eaten and need to be discarded. You can eat edamame in warm or cold.
Is Frozen Edamame Already Cooked?
Frozen Edamame is already partially cooked. It has been parboiled to preserve its freshness. You can thaw it inside the refrigerator or faster pop it inside the microwave for a few seconds. I just straight away steam or boiled in hot water. Either way is okay.
What Is The Best Way To Cook Frozen Edamame?
The best way to cook frozen edamame (shelled):
Boiled water inside a pan.
Add frozen Edamame
Boiled edamame for two to three minutes
Drain in colander
How To Store Edamame Pasta Leftover?
You can keep it in an airtight container inside your refrigerator. It can last up to 5 days. To reheat, you can microwave it for 5 minutes. I would sprinkle a bit of water before microwaving the leftover.
I hope that you will give this edamame pasta recipe a try. And I would love to hear from you about how it tastes.
If you like this edamame spaghetti recipe, I would appreciate you if you could help me to share this post with your family and friends.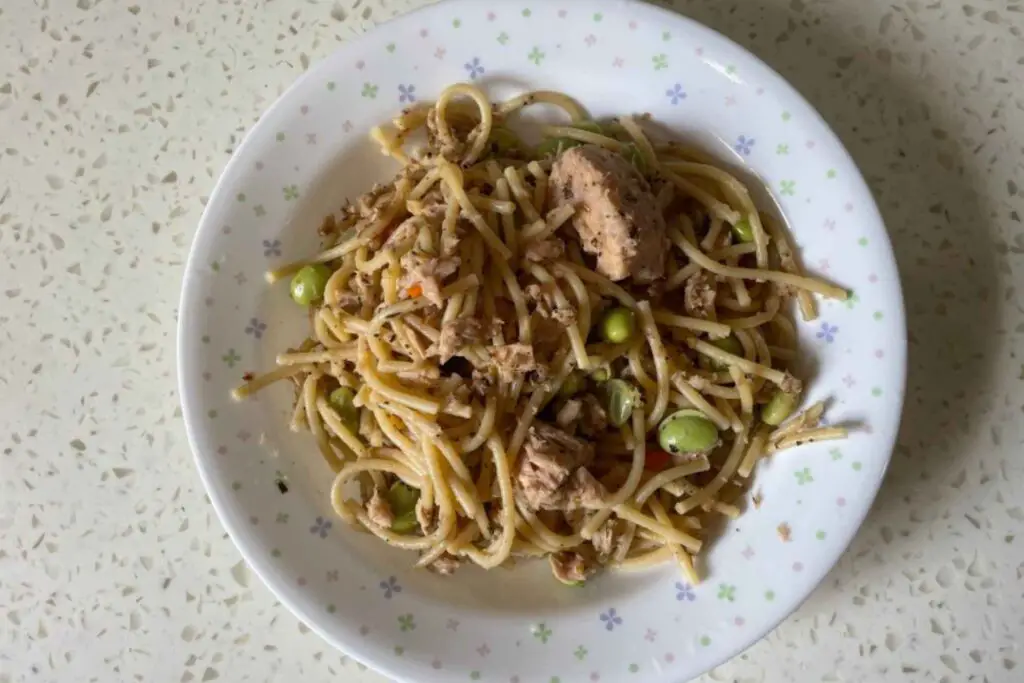 Related Posts