Jump to Recipe
This is one of my favorite meal prep and quick meal oat milk chia pudding. And I am happy to share this highly nutritious oat chia pudding with you.
Not only this oat milk chia pudding is so easy and quick to make. You only need 4 ingredients to make it which does not require any cooking skills!
I am a busy working mom with 3 active kids. So any recipes that are easy and quick to make definitely a yes to me.
But what makes me really love this recipe because it ticks all these: grain-free, vegan, and gluten-free.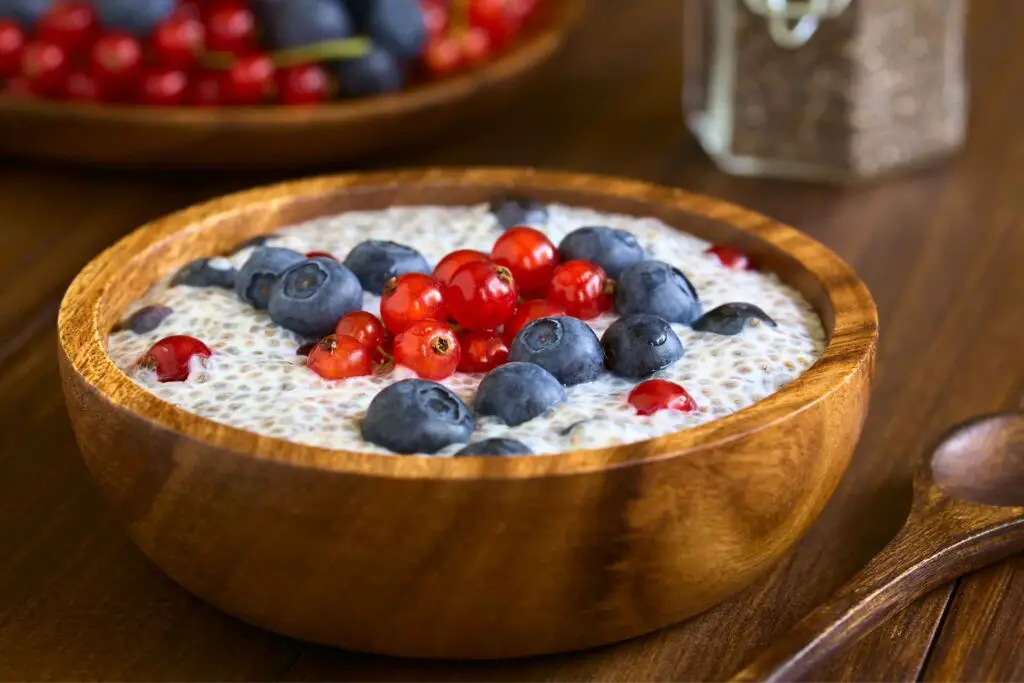 And this recipe is so versatile, it goes well with many different toppings. You can also check this recipe for strawberry protein overnight oats.
Disclosure:
Some of the links here are affiliate links, and I may earn if you click on them, AT NO EXTRA cost to you. I hope you find the information here useful! Thanks!
Why You Should Try Oat Milk Chia Pudding?
I like to highlight these two ingredients that have many nutritious benefits: Chia seeds and Oat milk.
Chia Seeds
Chia seeds may be small but the nutrient in them may promote heart health, support strong bones, and improve blood sugar management.
Moreover, they're packed with fiber, protein, omega-3 fatty acids, and various micronutrients.
Chia seed pudding with oat milk won't be complete without the star ingredients which are these chia seeds.
It is so easy to find and buy chia seeds. You can get it from any grocery store that is nearby your neighborhood.
Oat Milks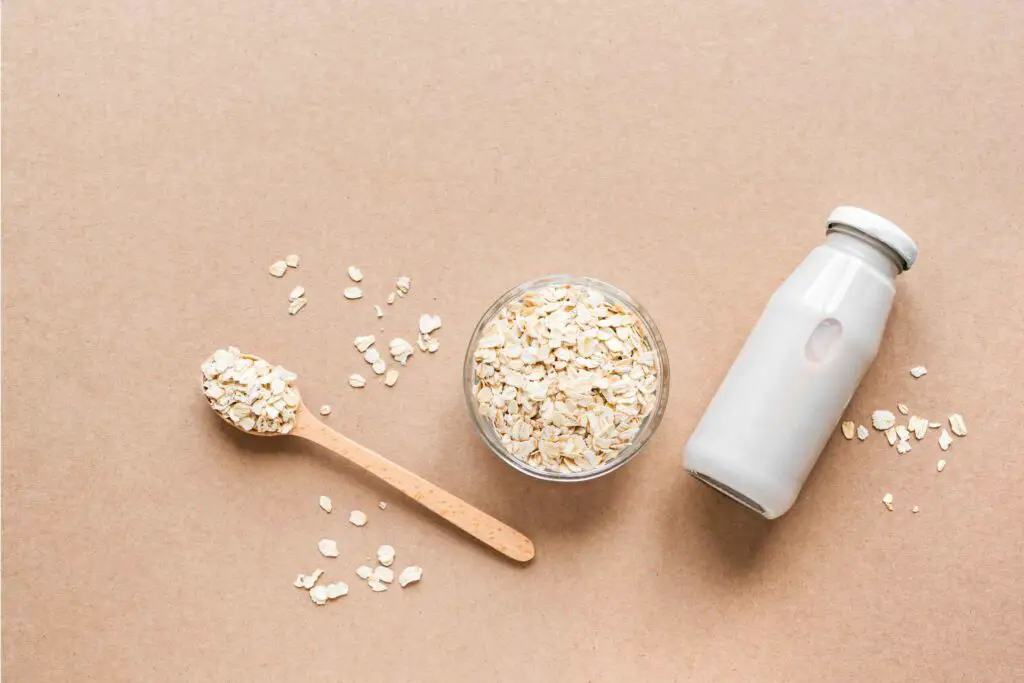 Oat milk is one of the popular plant-based milk alternatives. This is because it is a good choice for people who have certain food allergies and intolerance.
It is naturally free of lactose, nuts, and soy. I am using this oat milk to make chia seed pudding with oat milk.
Oat milk is a rich source of nutrients, and it has more calories, carbs, and fiber compared to cow's milk, almond, and soy but less protein compared to soy and dairy milk.
Did you know, you can make your own oat milk at home? You can use your homemade oat milk in this oat milk chia pudding.
How To Make Homemade Oat Milk
Here are the steps to make your own homemade oat milk:
Blend 1 cup of rolled or steel-cut oats with 3 cups of cold water for 30 seconds.
2. Pour the mixture over the cheesecloth into a wide-mouth jar or bottle to separate the milk from the oats.
3. Lift the cloth and form it into a sac, and gently squeeze any remaining fluid into the jar.
4. Optional: You can add vanilla or cinnamon extract or a pinch of salt, or a few dates, maple syrup, or honey before blending.
You can keep your homemade oat milk in the refrigerator for up to 5 days.
Ingredients/Substitution/Variations To Make Oat Milk Chia Pudding
Chia Seed – Chia seed is a black tiny seed, it is easily found in any grocery store, usually near to baking aisle. You can use white chia seeds if you couldn't find black chia seeds to make this oat chia pudding.
Oat Milk – You can make a healthier version of chia pudding oat milk by using unsweetened oat milk. For other plant-based milk alternative, you can used cashew, almond, soy, or even coconut milk.
Vanilla – This is optional. I add vanilla to give flavor to this oat chia pudding. You can choose to put cinnamon if you don't fancy vanilla extract.
Maple Syrup – To enhance the flavor of this chia pudding recipe with oat milk, I used unsweetened maple syrup. You can choose to use sweetened maple syrup, agave, brown sugar, coconut nectar, or pancake syrup as other sweetener options.
How To Make Oat Chia Pudding?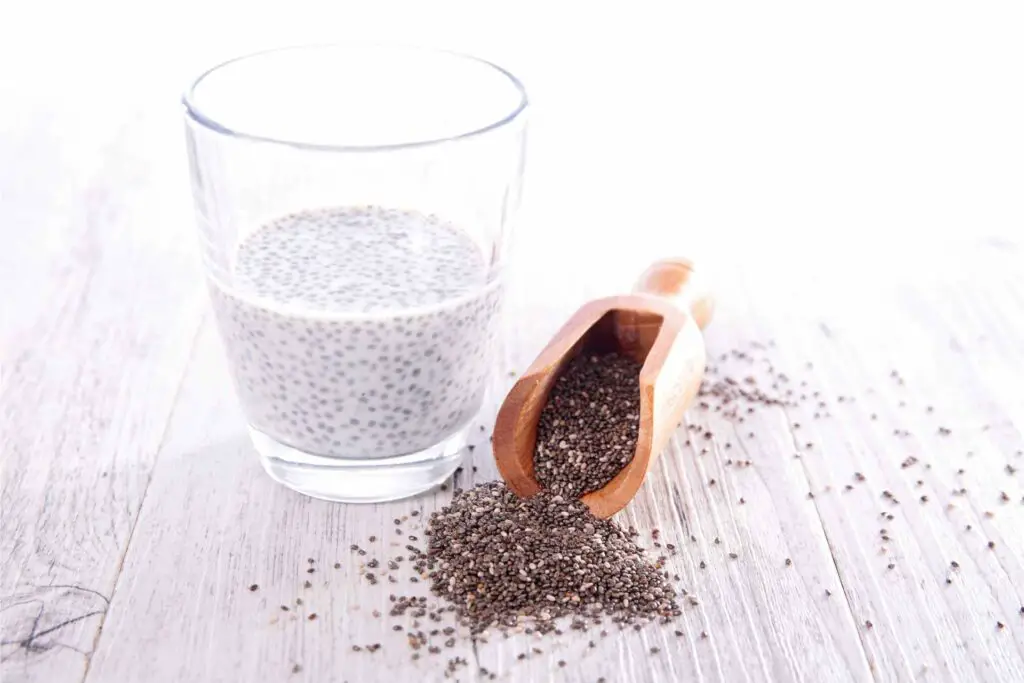 Here are some quicks steps to make chia pudding recipe oat milk:
Combine all the ingredients – Pour the chia seeds into a mason jar. Then pour oat milk, vanilla extract, and maple syrup. Stir them evenly.
2. Stir Again – After letting sit for 5 minutes, I'll stir again all the ingredients to prevent chia seeds to clump. Close the lids and stir motion for a few seconds.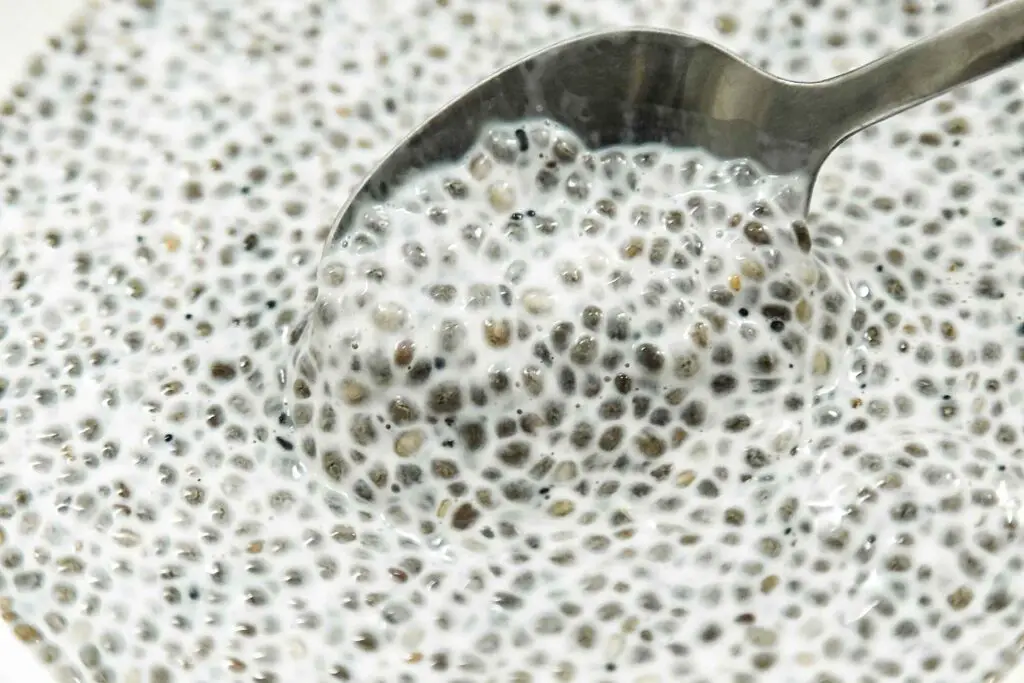 3. Let It Cool – You can leave the container overnight or at least for 2 hours before consuming.
4. Toppings – The best part of having oat milk chia seed pudding is choosing what toppings to put on oat chia pudding. This recipe goes well with a lot of fruits, and nuts, the choices are limitless!
Topping Ideas
I am so excited about this chia seed oat milk pudding because of the endless choices of toppings that you and I can try.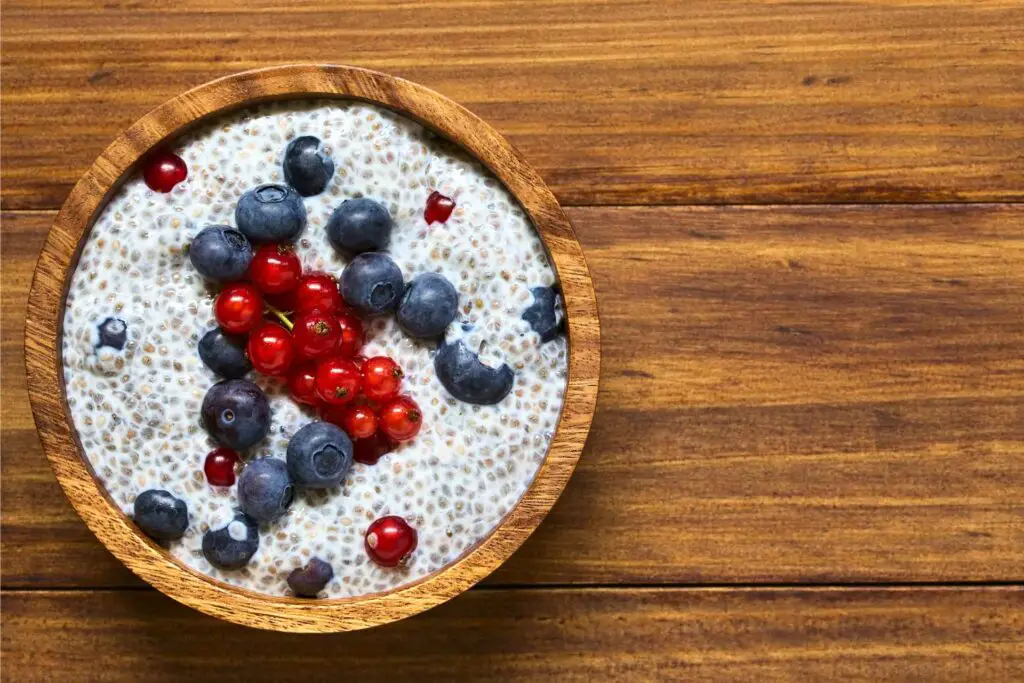 Here are some of the oat chia pudding's toppings that I personally have tried and tasted. Without any particular orders, you can add:
Nuts – Nuts are a good source of fiber, healthy fats, and plant protein such as almonds, pistachios, walnuts, cashews, pecans, macadamia nuts, brazil nuts, hazelnuts, or peanuts.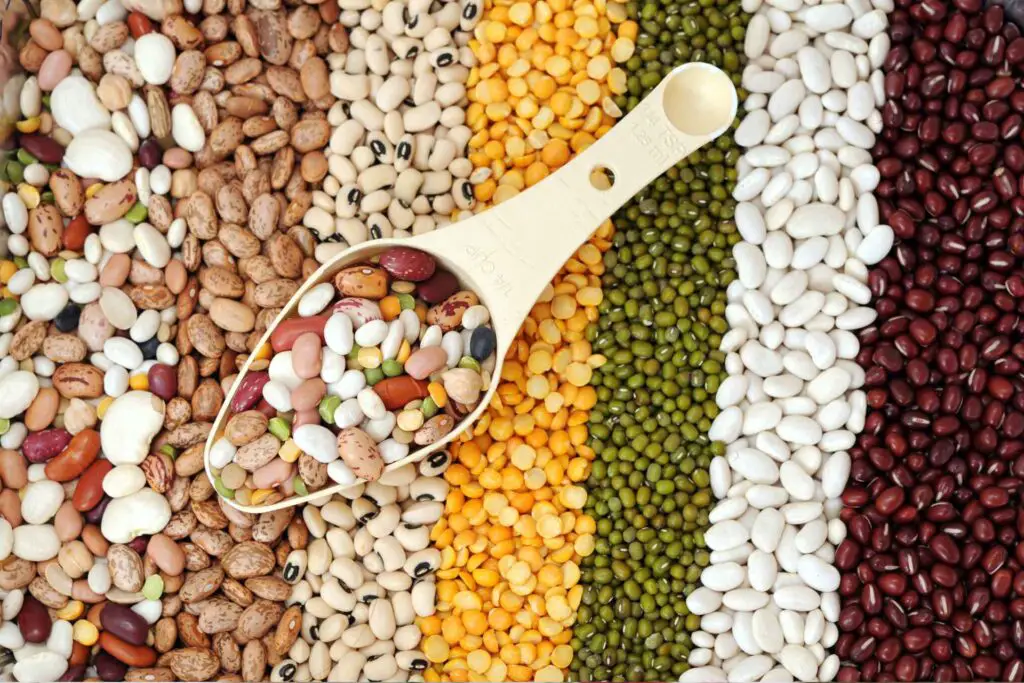 My personal favorites are almonds and macadamia nuts.
Seeds – Seeds are a good source of fiber and micronutrients. Examples of seeds are flaxseeds, chia seeds, hemp seeds, sesame seeds, pumpkin seeds, and sunflowers seeds.
Yogurt – Yogurt is a great source of high-quality protein, and various amount of fats, and contains a small amount of lactose.
My personal favorite is greek yogurt. Greek yogurt is good to promote good bacteria in your gut.
Raisins
Granola
Cinnamon
Nut Butter
Frozen Fruits
Fresh Fruits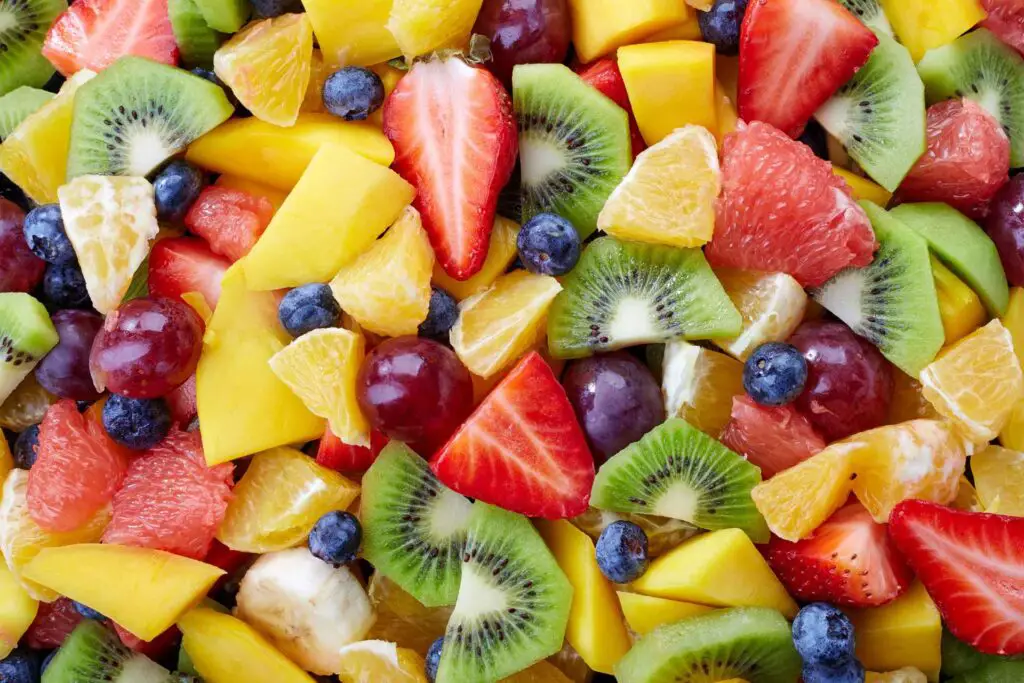 Protein Powder
Chocolate Chips
Shredded Coconuts
And much, much more!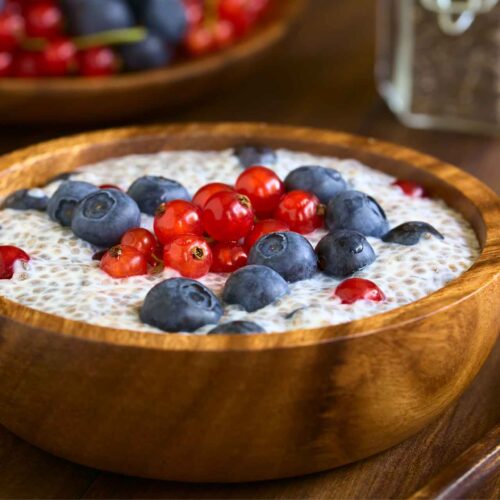 Oat Milk Chia Pudding
Ingredients  
4

tbsp

chia seeds

1

cup

oatmilk

2

tbsp

maple syrup

1

tsp

vanilla extract

toppings of your choice
Instructions 
Add chia seed, oat milk, vanilla, and maple syrup in jar mason container.

Stir well, and let sit for 5 minutes stir again to avoid chia seeds becoming clumps.

Refrigerated for 2 hours or for an overnight.

Ready to be served with toppings of your choice.
Notes
Puree the chia seeds in a blender if you like a smoother texture. 
FAQs On Oat Milk Chia Pudding
What Milk Is Best To Soak Chia Seeds In?
The best milk to soak chia seeds in is almond milk. Soak the chia seeds in almond milk or water until they take on a chewy texture for about 20 minutes. It can be refrigerated for up to 5 days.
Is Chia Pudding Actually Good For You?
Chia Pudding is good and incredibly healthy because chia seeds are rich in omega-3 fatty acids, protein, antioxidants, and fiber. Chia seeds can help with weight loss thanks to the soluble fiber in chia seeds by keeping you feeling full and can help with constipation too.
What Are The Benefits Of Chia And Oat Pudding?
The benefits of chia and oat pudding are high in fiber, protein, vitamins, minerals, and antioxidants making oat milk chia pudding not insanely delicious, but it is also extremely nutritious too!
Is It Ok To Soak Chia Seeds In Milk?
It is ok to soak chia seeds in some type of milk (such as coconut, or almond) and in water, this will create a gel-like final product that is delicious, rich, and satisfying. Chia seeds are a good superfood addition to a healthy diet and may help with weight loss efforts.
Why Are My Chia Seeds Not Swelling In Almond Milk?
If your chia seeds not swelling in almond milk it might be because your chia seeds are old, and they might not absorb liquids well. If there is not enough liquid in the bowl will cause them not to swell or being able to form into a gel.
Is It Ok To Eat Chia Seed Pudding Everday?
It is not ok to eat chia seed pudding every day because eating too many chia seeds can cause digestive issues like abdominal pain, constipation, diarrhea, bloating, and gas.
What Are The Disadvantages Of Having Chia Seeds Daily?
The disadvantages of having chia seeds daily may cause side effects such as diabetes, high blood pressure, allergies, or digestive issues. Hence, you should explore and try various healthy diets in your lifestyle. It is always better to take your food in moderation.
How Many Times A Day Can I Eat Chia Pudding?
In a day, it is recommended that you can eat chia pudding – chia seeds twice per day. A common dosage recommendation is 0.7 ounces (about 20 grams or 1.5 tablespoons). You need to drink plenty of water to prevent any digestive side effects.
Is Chia Seed Pudding Good For Your Stomach?
Chia seed pudding is good for your stomach as chia seeds are known to act as a prebiotic that can help your stomach to produce good bacteria and keep your digestive system working appropriately. It can act as a cleansing agent when it turns into a sticky gel-like substance in your digestive system.
Does Chia Pudding Make You Hungry?
On contrary, chia pudding does not make you hungry. This is because chia seeds are high in protein and fiber which are known to make you feel fuller longer and feeling satiety and help to decrease appetite.
How To Store Oat Milk Chia Pudding?
You can store oat milk chia putting for up to 5 days in individual containers in your refrigerator. You can enjoy the oat milk chia pudding cold when you're ready.
I hope you will enjoy making and eating this chia pudding with oat milk. If you like this recipe, feel free to explore other recipes in my blog. I would appreciate it if you could share this article with your family and friends.
Making delicious food should be an enjoyable experience for you and for the people that you love. Making, eating, and choosing to eat a healthy diet can help you both physically and mentally in a long run.
Related Posts
Strawberry Protein Overnight Oats