Are you wondering how to cook salmon pasta without cream? Then you have arrived at the right article. I am about to share with you one of my easy-to-do recipes that you can whip up in less than 30 minutes.
Being a busy working mom, I couldn't afford to spend time more in the kitchen, therefore, this salmon pasta no cream is one of my quick solutions for my family's dinner and I am happy to share my salmon pasta recipes no cream with you.
You don't have to prepare a lot just a few ingredients are enough to make this salmon recipe without cream. And what I like the most about this quick salmon pasta, it is so versatile you can change the taste easily.
Disclosure:
Some of the links here are affiliate links, and I may earn if you click on them, AT NO EXTRA cost to you. I hope you find the information here useful! Thanks!
Salmon Pasta Without Cream
I am a mother that works in shifts, and having three kids can be demanding. Hence, I like to do meal planning for busy moms to ease my day-to-day life and have a work-life balance. Spending my time in the kitchen after a hectic shift is a big no to me.
Making a healthy well-balanced nutritious meal for my family is also one of my priorities. What I like about making this creamy salmon pasta without cream is how versatile this recipe can be. You can play with a lot of ingredients to make this salmon pasta recipe no cream.
If you are bored with creamy salmon pasta making it without cream can pleasantly surprise your tastebud as I can reassure you that this salmon pasta recipes no cream is delicious and well received in my family and hopefully yours too!
Key Ingredients and Substitute For Salmon Pasta Without Cream
If you want to cook salmon and pasta recipes without cream, you can drop the heavy cream. Btw, did you know you can make this recipe creamy even without using heavy cream? Excited much? Let's dive into the recipe.
Spaghetti – I used this spaghetti for this easy salmon and pasta recipes. You can also use other types of pasta such as penne, fettuccine, or fusilli.
If you like pasta recipes you can try my high-protein edamame pasta recipe.
Salmon – Besides salmon, you can make smoked salmon pasta no cream using this smoked salmon. You also can use canned tuna as a substitute for this easy salmon pasta, however, I find using canned tuna less appetizing.
Btw, you might like my salmon sushi bake recipe too!
Garlic – Besides garlic, you can use shallot too. So either one tastes great, but my fav – is garlic. I always stage my ingredients first before meal prep. This helped me tremendously, especially if you are trying to lose weight as a busy working mom.
Butter – If you want your salmon pasta recipe to be creamy without using cream, you can use butter or you can use egg to imitate the creaminess. This is how I use eggs as a sauce.
Egg sauce
1 whole egg
1 egg yolk
1 tsp salt
1 tsp black pepper
1 tsp dried herbs
1 tsp rosemary
30g chopped parmesan cheese
Put all the ingredients in a bowl and whisk until smooth. If you use this as a substitute, put this egg sauce last under low heat as we don't want the egg sauce to become scrambled eggs.
Spinach – I cannot live a day without eating vegetables. In this salmon and spinach pasta without cream recipe, I am adding spinach you can add other vegetables too. I have tried adding broccoli, and tomatoes. Both taste heavenly.
Garnishing – In this salmon and spinach pasta without cream recipe, I use mixed herbs and grated parmesan cheese. You can also try to put chopped parsley, it does smell and enhance the taste too!
How To Make Salmon Pasta Without Cream
Step 1: Marinate salmon with salt, pepper, and lemon juice. Air fry at 200 Celsius for 15 minutes. If you don't like salmon skin, you can remove it before cooking. If you don't have an air fryer, you can cook using a non-skillet pan or poach together while cooking with pasta.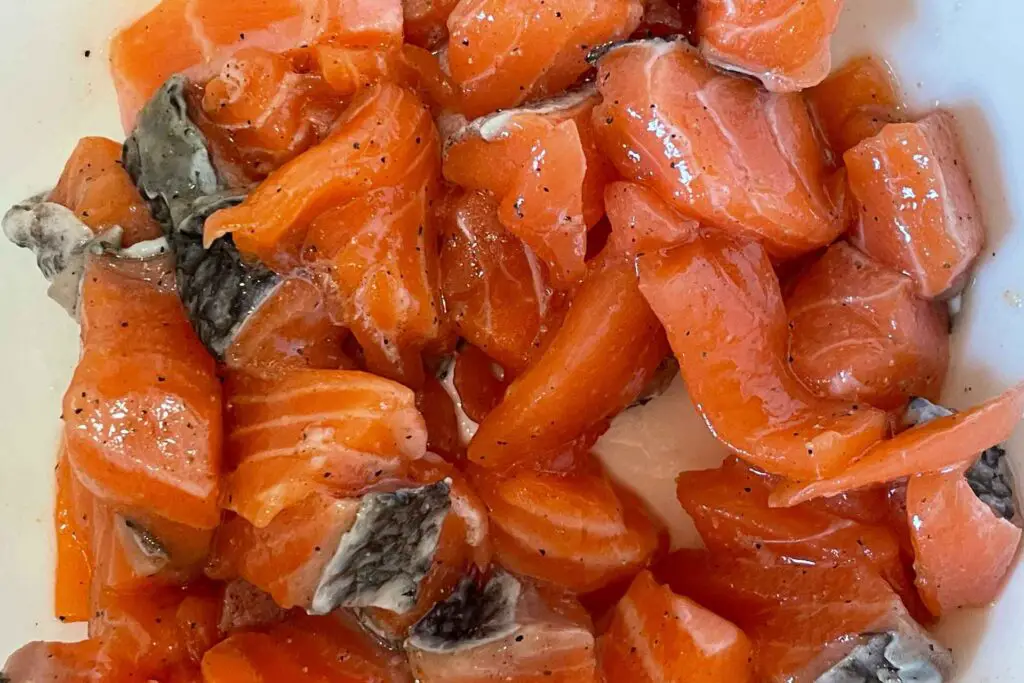 I highly recommend that you have this air fryer at home as not only it will help you to save time and help you to budget your expenses. Best, it is kids friendly too!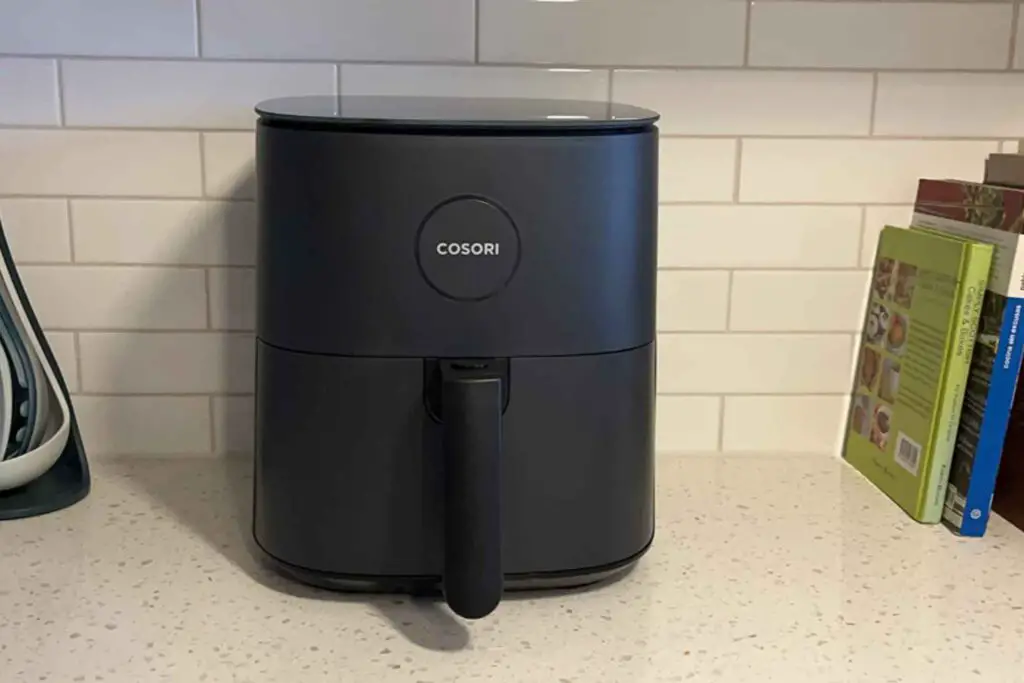 Step 2: Boiled spaghetti in water, adding salt and vinegar. Cooked until el-dente. Don't throw the pasta water away as we need it for later.
Step 3. Saute minced garlic until golden brown, do not overcook as this can alter the taste, after that put butter and pasta water together.
Step 4. Then put in pasta, and cooked salmon and stir for a while, then last garnish with mixed herbs and grated parmesan cheese.
Tips On Salmon Pasta No Cream
If you are like me and love to do meal planning and meal prep to save time and expenses, you can make this easy salmon pasta recipe ahead of time.
I cooked my salmon in a large batch separately and store them in an airtight container inside the fridge. This can last up to 5 days. And I stage my ingredients such as garlic and vegetables (depends on what kind as vegetables is easily perishable) ahead of time too!
If you don't have a microwave or oven, I love using this air fryer to reheat my salmon for later cooking. This left me with only cooking pasta (just a couple of minutes), and with the leftover salmon, you can repurpose it for other dishes.
Salmon Pasta Without Cream
Ingredients  
150

gram

spaghetti

0.5

lb

salmon fillet

diced

5

cloves

garlic

minced

1

tbsp

olive oil

4

tbsp

unsalted butter

1

tsp

salt

1

tsp

black pepper

1/4

cup

lemon juice

1

tbsp

mixed herbs

1

cup

spinach
Instructions 
Diced salmon and marinate with salt, black pepper, and lemon juice

Air fryer marinated salmon at 200 Celsius for 15 minutes

Boiled pasta with salt until el dante. Keep pasta water 10 mls for later

Pre-heat non-skillet pan with olive oil and saute minced garlic until turns golden brown

add in butter and leftover pasta water before adding pasta

Add in cooked salmon and stir together with pasta

Lastly, add mixed herbs and spinach. Stir for a while. Ready to be served.
FAQs On Salmon Pasta Without Cream
What Pasta Pairs Well With Salmon?
Pasta pairs well with salmon with these tempting options such as pesto pasta, creamy garlic pasta, spaghetti with mussels and tomato sauce, chili prawn linguine, and creamy pasta with broccoli, peas, and lemon. The choice is limitless, all you have to do to open your mind and be adventurous.
How Long Do You Have To Cook Salmon?
You have to cook salmon for about 12 to 15 minutes long and also depending on the recipes that you want to cook. For instance, in this easy salmon pasta recipe, I cook salmon at 200 Celcius or 392 Fahrenheit for 15 – 18 minutes using this air fryer. If you bake salmon, you need to cook for about 12 to 15 minutes at 450 degrees F in the oven.
How Are You Supposed To Cook Salmon?
To cook salmon, you can season the salmon fillets with salt and pepper. Add butter or oil in a large skillet with salmon skin-side down. Cook for about 5 to 6 minutes on medium-high heat. Flip the fish and cook skin-side up for 3 to 5 minutes gently using a wide spatula or until done.
What Taste Best With Salmon?
Salmon tastes best with these side dishes ideas:
Vegetable Wild Rice
Maple Roasted Brussel Sprouts And Carrots
Miso Mashed Potatoes
Sauteed Green Beans With Furikake
Burrata Caprese With Balsamic Glaze
Roasted Garlic Mashed Potatoes
Lemony Spring Risotto With Peas And Asparagus
Sauteed Mushrooms With Garlic With Sweet Potatoes
Does Cheese And Salmon Go Together?
Yes, cheese and salmon do go together. Soft cheeses, like brie or cream cheese taste heavenly with salmon. Blue cheese or melty Swiss cheese paired with smoked salmon elevates the taste tremendously. To balance the rich flavor of salmon you can add more cheese.
How Do You Know If Salmon Cooked Properly?
If you want to know if your salmon is cooked properly look at the flesh of the salmon flakes, and if it can separate easily along the white lines (strips of fish fat) that run across the fillet, it is nicely cooked. You can then take it off the heat! But again, if you like your salmon crispier leave it to cook for 1 to 2 minutes more does help.
What Not To Do When Cooking Salmon?
When cooking salmon, do not do these so that your salmon cook perfectly every time:
Cook at too high a temperature
Not checking for pin bones
Using too little fat in the pan
Not checking the internal temperature of the salmon
Not cooking the salmon skin-side down for maximum crispiness.
How Do You Prepare Salmon Before Cooking?
You can prepare your salmon before cooking with these easy steps:
Using a paper towel, pat the skin side of the fish dry
To add crispiness, add sea salt to season the skin
Add olive oil for cooking using a pan fry on medium-high heat
Skin-side down, place the fish onto the heated pan
Cook for 4-6 minutes
Turn over and cook for 3-4 minutes more
How Can I Make My Salmon Taste Better?
You can make your salmon taste better with these few seasoning ideas such as garlic butter – a mixture of chicken broth, lemon juice, honey, butter, and garlic. Cajun seasoning – I highly recommend Mccormick's Cajun Seasoning! Baked Teriyaki Salmon Sauce – If you are on a specific diet like paleo and keto you can try this teriyaki salmon sauce.
Can You Eat Too Much Salmon?
Adviseable, you cannot eat too much salmon as consuming too much can lead to weight gain and increased risk for other health problems. Salmon is a fatty fish and also contains mercury comparatively lower than any other type of seafood, which can be harmful in large amounts. I strongly recommend you to have a well-balanced nutritious food.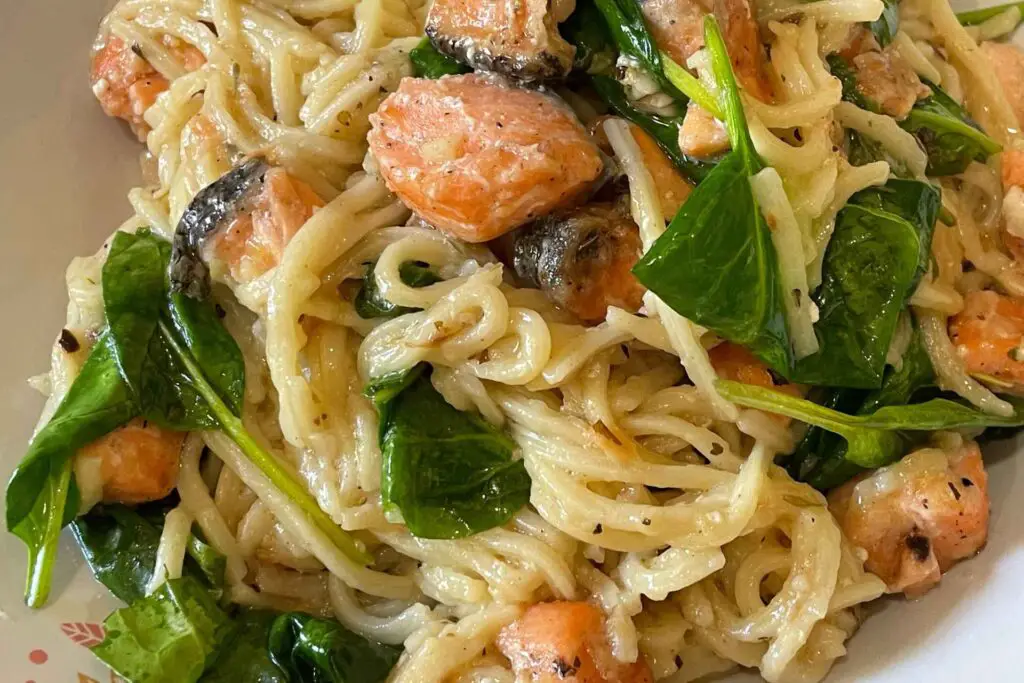 There you have it. One of my family's favorites recipe is salmon pasta without cream. If you tried and liked this quick salmon pasta recipe do let me know by leaving me a comment down below or you also can support me by sharing this simple salmon pasta with your family and friends.
Related Posts on Salmon Pasta Without Cream
Salmon Sushi Bake Recipe Without Cream Cheese
The Ultimate Guide – Weight Loss For Busy Moms