You know how excited I can be when sharing a new recipe: Tiramisu Oatmeal. I am not really a coffee lover but this overnight oats tiramisu did blow my mind away.
It tastes slightly sweet with a creamy texture and this healthy dessert is guilt-free making this tiramisu oatmeal an ideal dessert if you are craving a dessert. And the best you can prepare this meal early and enjoy it for the next few days. Time management rocks!
Furthermore, I just love oats because of the nutritional benefits to our bodies. And I have a lot of other recipes with oats that you can try out.
You might like: Strawberry Protein Overnight Oats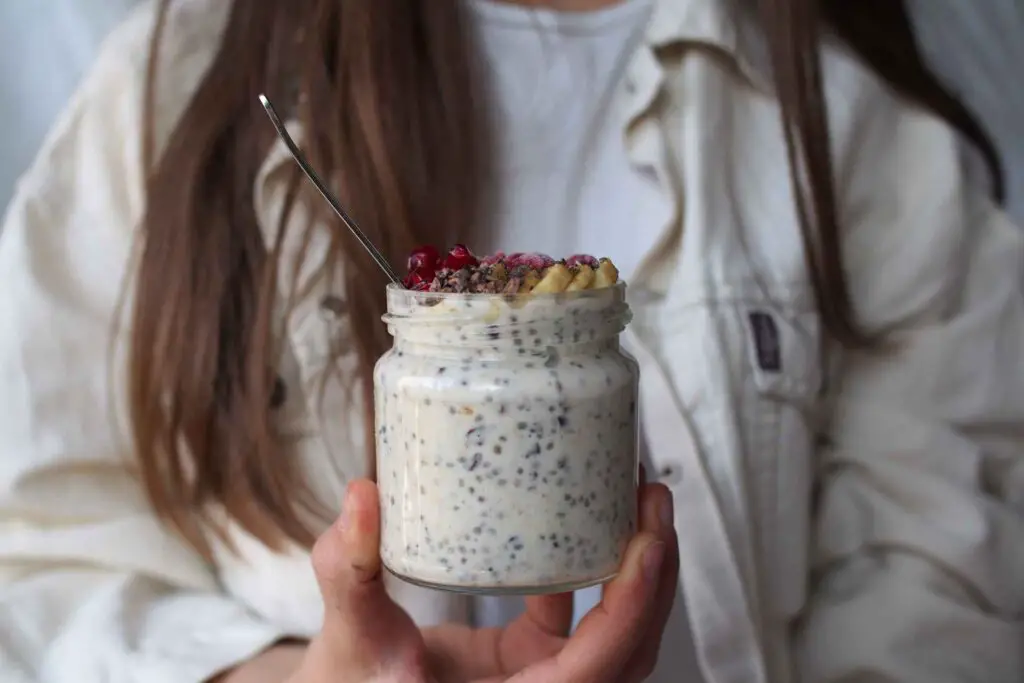 Disclosure:
Some of the links here are affiliate links, and I may earn if you click on them, AT NO EXTRA cost to you. I hope you find the information here useful! Thanks!
Why You Should Try Making Tiramisu Oatmeal?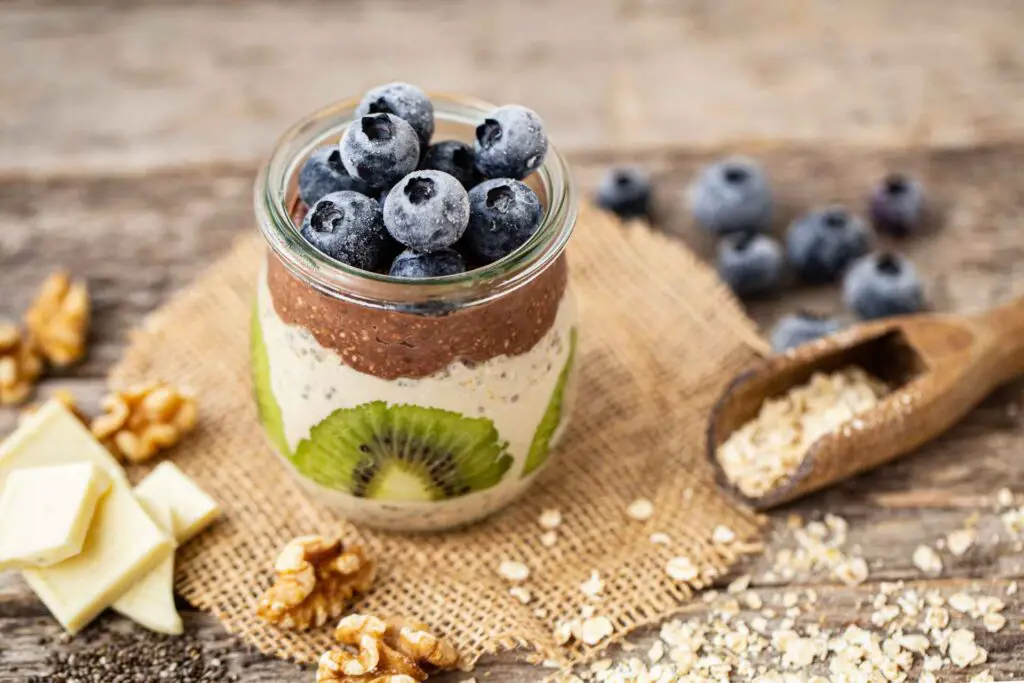 If you love coffee, and chocolate or are on a conquest to be healthier and looking for an alternative healthy dessert or in a special diet program for example intermittent fasting then this tiramisu overnight oats recipe may help you to curb that craving.
Besides this tiramisu overnight oats taste great and are pretty fast to make. It has beneficial nutrients from the oats themselves. Oats are gluten-free whole grain and a great source of important vitamins, minerals, fibers, and antioxidants.
Oats have beta-glucan, a powerful soluble fiber that helps to regulate insulin hormone thus reducing blood sugar, promoting good bacteria inside your gut, helping to reduce cholesterol, and helping to make you fuller longer.
Unsweetened cocoa is anti-oxidant and may help to reduce blood pressure and coffee has caffeine which in moderate amounts can help to boost metabolism, mood, and alertness.
Ingredients To Make Tiramisu Oatmeal
Oats – I use Bob's Red Mill Organic Old Fashioned Rolled Oats for this tiramisu oats. I love this brand because it's gluten-free, tastes fresh, slightly chewy, and delightful.
I won't recommend using quick oats or steel-cut oats though due to the texture and taste.
Unsweetened Almond Milk – I love unsweetened almond milk. This is one of the plant-based milk that I always restock inside my pantry. Not just its taste great, high in protein, low in calories, non-dairy, and zero sugar, making this a healthier choice for weight management.
Freshly Brewed Coffee – You can use any coffee brand either brew it freshly or use instant coffee. I am using this coffee to make this tiramisu overnight oats.
Salt
Unsweetened Cocoa Powder – I am using this unsweetened cocoa powder for this oatmeal tiramisu and other desserts which I share on my TikTok account.
Chia seeds – Whenever I can, I love to add chia seeds to my Mediterranean Smoothies. It is packed with fiber and omega-3 that can help support your brain function and overall well-being.
You may also like this recipe: Oat Milk Chia Pudding
Protein Powder – I love to add protein powder to my overnight oat tiramisu for the added protein. Protein can help to make you feel fuller longer and curb your appetite. You can add any protein powder to the tiramisu oatmeal that you like. For me, I use Whey Protein Powder from Herbalife.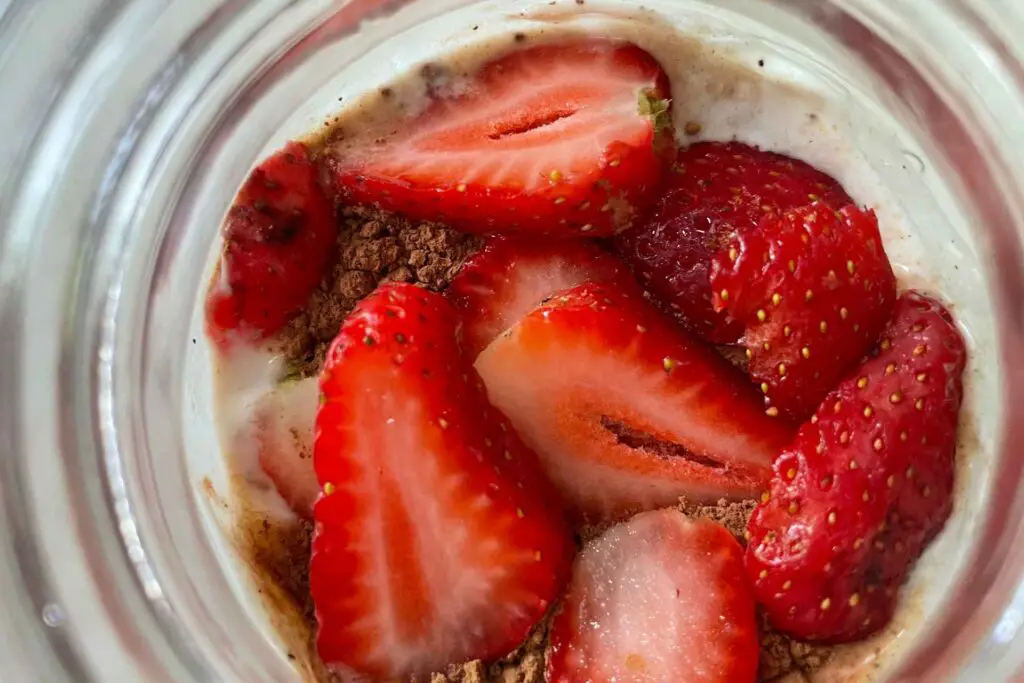 Optional – You can add Vanilla extract for added flavor and smell to heighten the taste and your favorite fruits. Personally, I love adding strawberries, blueberries, and raspberries to my tiramisu protein overnight oats due to their nutritional benefits and low in calories too!
Healthy Mascarpone Layer For Tiramisu Oatmeal
You can make a healthier mascarpone layer for your Tiramisu Oatmeal with these substitute ingredients:
Greek yogurt – This is another staple item inside my pantry that I will always restock. I make a sauce with it for my salmon sushi bake recipe and fried Enoki mushroom.
Not only is Greek yogurt high in protein, but it also contains live and active cultures: S. Thermophilus, L. Bulgaricus, L. Acidophilus, Bifidus, and L.Casei which helps to promote a healthy environment for good bacteria inside our gut.
A healthy gut not only may help in weight management but also helps in maintaining hormone balance and overall physical and mental health.
Optional – You can add protein powder for extra added protein and vanilla extract or buy vanilla protein powder to add to your healthy tiramisu overnight oats.
How To Make Tiramisu Oatmeal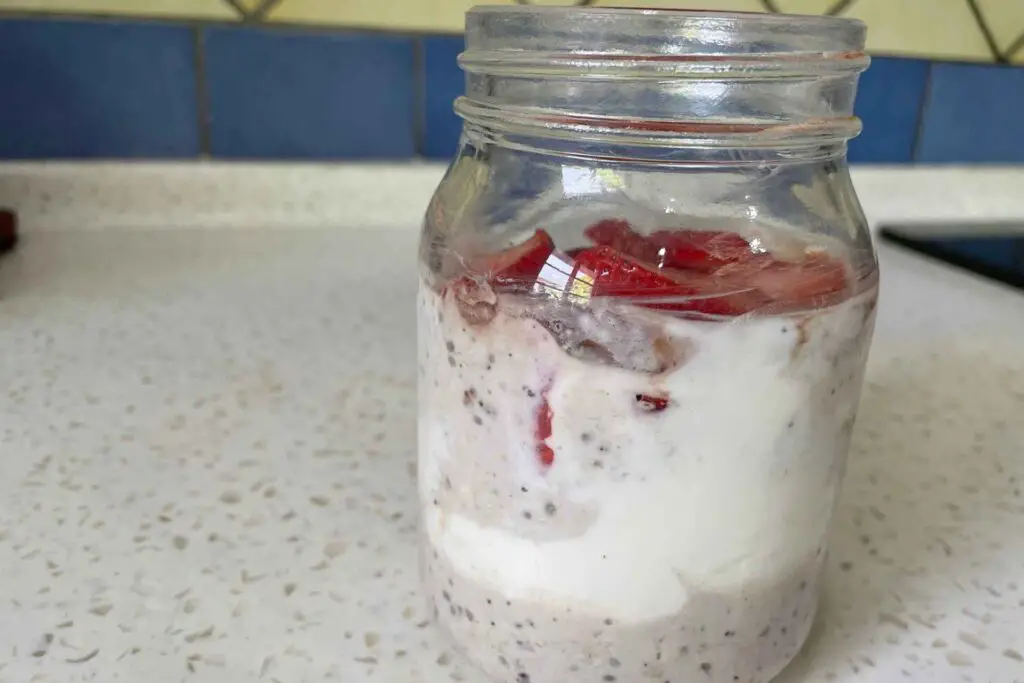 Step 1: Put in oats, chia seeds, protein powder, a pinch of salt and mixed them together nicely inside an airtight mason jar.
Step 2: Mix unsweetened almond milk, maple syrup, and coffee. Then pour into oats. Let soak overnight or for at least 1 hour.
Step 3: Layer overnight oats with our healthy mascarpone layer by layer.
Step 4: Sieve unsweetened cocoa powder on top of the jar and enjoy immediately. You can also add your favorite slice fruits on top of the tiramisu oatmeal.
FAQs Tiramisu Oatmeal
Are Overnight Oats Still Healthy?
Yes, overnight oats are healthy. It has beneficial nutrients to our well-being due to its rich fiber and protein content. Oats contain vitamins and minerals like manganese, phosphorus, magnesium, copper, iron, and zinc. Thus making overnight oats tiramisu healthy for overall health and well-being.
Can I Eat Tiramisu For Breakfast?
Yes, you can eat tiramisu for breakfast. This tiramisu overnight oats is a healthier recipe compared to the conventional recipe that you may have known. As oats are high in fiber, minerals, and vitamins, it is good for overall health and well-being. This overnight oats tiramisu recipe is also low in sugar too!
Do Overnight Oats Need To Be Soaked?
Not necessarily do overnight oats need to be soaked overnight. Oats do take some time to absorb the liquid and I would recommend to at least be soaked for about eight hours but you still can have overnight oats for breakfast even though you didn't prep them the night before because I did.
Can I Eat Tiramisu While Dieting?
Yes, you can eat tiramisu while dieting however with caution, and should be consumed in moderation or rarely as tiramisu is not necessarily considered healthy and is relatively high in calories, fat, and sugar. However, you can substitute the regular tiramisu with this healthy tiramisu overnight oats.
Can You Refrigerate Tiramisu Overnight?
Yes, you can refrigerate tiramisu overnight. Any leftovers should be refrigerated immediately and can last up to 4 days. You can transfer to an airtight container or wrap the dish well with plastic. You are prepping this tiramisu overnight oats recipe ahead of time, it is best served after 1-2 days.
Why Are My Overnight Oats Soggy?
If you are wondering why your overnight oats are soggy it might be because of the liquid-to-oat ratio. If you use too much liquid, your overnight oats will end up soupy. You can try this 2:1 ratio of liquid to oats when you are making tiramisu overnight oats if you like a spoonable, porridge-like consistency.
Are Chia Seeds Good In Overnight Oats?
Yes, chia seeds are good to put in overnight oats and the perfect addition to your tiramisu oatmeal. Chia seeds provide both insoluble and soluble fiber. It also has protein, calcium, phosphorus, zinc, and omega-3. These may help to slow digestion and prevent blood sugar spikes according to the Harvard School of Public Health.
Are Overnight Oats Better With Milk Or Yogurt?
Depending on your preferences, you can put in milk or yogurt for your overnight oats. You can make overnight oats with any kind of milk; dairy or non-dairy. If you are using non-dairy milk, it is best to use unsweetened non-dairy milk. For a healthier choice, use Greek yogurt. Greek yogurt can make your overnight oats more filling and super-creamy texture.
How To Make Overnight Oats Tastier?
To make overnight oat tastier, you can add a little extra flavoring with for example vanilla extract, or spices like cinnamon, nutmeg, or cardamom. You can try this strawberry protein overnight oats recipe.
What Is The Ratio Of Oats To Liquid For Overnight Oats?
The recommended ratio of oats to liquid for overnight oats is 1:1. You need to soak one part rolled oats with one part liquid overnight oat. If you want thicker oatmeal use less liquid and more if you like it runny. You can use water or any type of milk (dairy or non-dairy).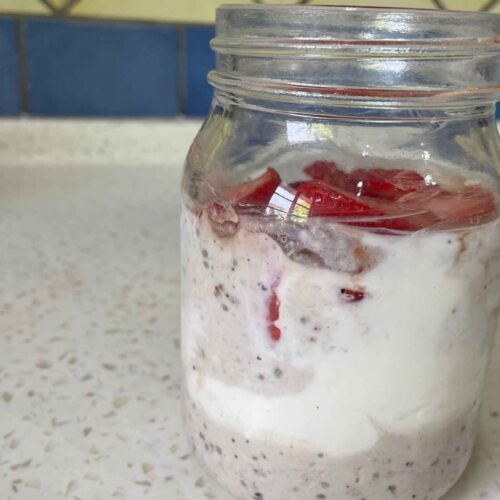 Tiramisu Oatmeal
Ingredients  
1

cup

oats

1

tbsp

chia seed

2-3

tbsp

maple syrup

1

cup

unsweetened almond milk

1/2

cup

brewed coffee

1

pinch

salt
Mascarpone Layer
1

cup

Greek yogurt

2

tbsp

protein powder

1

tbsp

maple syrup

1

tbsp

unsweetened cocoa powder to dust on top
Instructions 
Mix oat, chia seed, and salt in a container. (A)

Mix almond milk, greek yogurt, brewed coffee, and maple syrup. Blend well. (B)

Mix A + B in a mason jar. Shake vigorously to let the air escape.

Taste the mixture and adjust the sweetener accordingly to your taste preferences.

Cover the mason jar with an airtight lid and place it inside the refrigerator overnight.
Serving
Mix Greek yogurt with maple syrup and protein powder. Add some more yogurt or almond milk if the consistency is too thick.

Serve the overnight oats in layers inside a tall mason jar. Alternate between oats and yogurt, ending the top with yogurt.

Finish off with dust unsweetened cocoa on top and enjoy.
Storage
Leftovers are to be put inside an airtight container in a refrigerator for up to three days.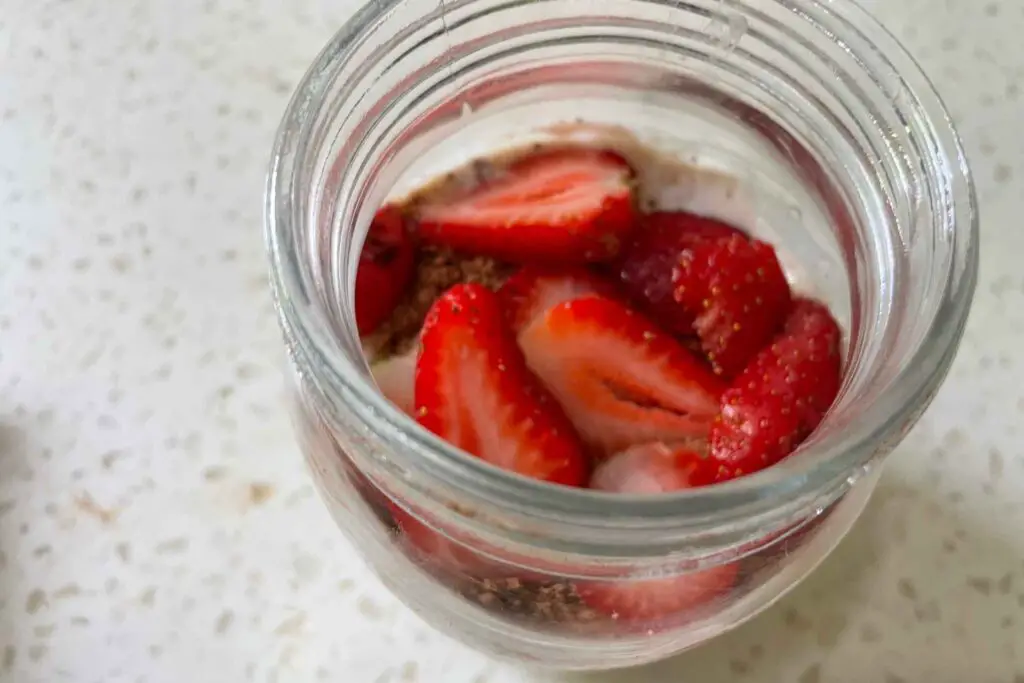 If you give this tiramisu oatmeal a try, do let me know on the comment down below. I am hoping you will enjoy this tiramisu overnight oats and get the nutritional benefit too!
If you enjoy this overnight oats tiramisu, you can support me with sharing this tiramisu oats with your family and friends. Do tag me on my social media handling when you create this tiramisu oatmeal.
Related Posts
Strawberry Protein Overnight Oats
Crescendo Fasting – Intermittent Fasting For Women Weight Loss